Hit French romantic comedy Populaire hits DVD and Blu-ray in September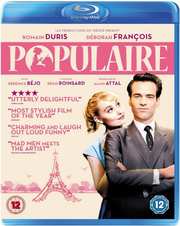 It's a French romantic comedy from
Entertainment One
, involving of all things... typing. Peaked your interest yet? Régis Roinsard directs
Populaire
out on DVD and Blu-ray this 23rd September.
Starring Déborah François, Romain Duris and Bérénice Bejo, this arrives with no less than five featurettes, and an RRP of £17.99 for the standard definition release and £19.99 for the HD version.
Synopsis and trailer follow...
Spring, 1958. 21-year-old Rose Pamphyle is living in a sleepy French village with her widower father. Engaged to the son of the local mechanic, it seems her destiny is to spend the rest of her days as a bored rural housewife.
But Rose wants more from life. Travelling to Normandy, she meets Louis Echard, the dashing boss of an insurance agency who's hiring a secretary. The interview is a disaster, but Rose reveals a special gift, she can type at an extraordinary speed!
Unwittingly, she awakes the dormant sports fan in Louis, who enters her into national speed typing competition. As he coaches her, they both discover that the road to success can take some romantic turns.