Swann Launches DVR4-1260 4 Channel D1 Digital Video Recorder & 2 x PRO-535 Camera Kit
Security Recording Kit with Internet & Smartphone Viewing. Protect your home and business from the palm of your hand!
Swann proudly debuts its new affordable, security system, the DVR4 -1260. Today's on-the-go lifestyle means that any truly effective security monitoring solution for your home or business needs to be practical, powerful, compact and convenient. The DVR4-1260 2-Camera Surveillance System offers state of the art, professional monitoring capabilities in an easy to install, easy to setup and easy to use package with 2x 650TVL cameras with powerful night vision up to 25 metres included. Another 2 cameras can be added for complete 4 channel monitoring.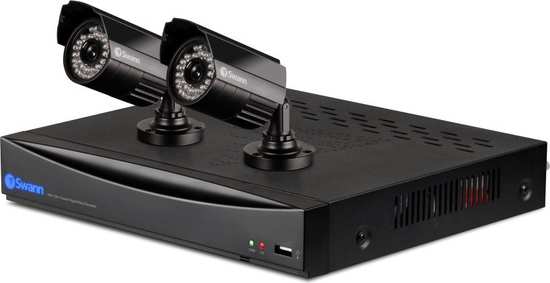 You can view all four channels at once on your HDTV, LCD or Plasma television or on a PC monitor using the high resolution VGA output. You can also securely access your system from practically anywhere in the world from almost any computer connected to the internet, or from your 3G enabled Smartphone including iPhone, iPad, Android devices and more*. Simply download the SwannView app.
With the DVR4-1260, you're in total control of the DVR's recording modes - easily select your preferred resolution, frame rate and the amount of video compression. You can record from up to four cameras for up to 30 days+ continuously onto the massive 500 gigabyte hard drive. You can also save time and hard drive space using the DVR4-1260's advanced motion detection recording. Even better, the time and date are integrated into your video files, allowing you to find and transfer events to a USB flash drive for easy storage and retrieval. You can also be sent email alerts when activity is detected for peace of mind, all the time.
Main Features
View & record from 4 cameras simultaneously during the day, night, indoors or outdoors
Includes 2 weather resistant, high resolution 650TVL cameras with powerful night vision to 82ft/25m, add 2 more cameras for full 4 channel monitoring
Set and forget by recording continuously from up to 4 cameras for 30 days+ onto a 500GB hard drive, longer with motion detection
Save time and have peace of mind by easily locating incident video, then transfer to USB flash drive
Surveillance in the palm of your hand with live viewing on 3G/4G-enabled Smartphones & tablets including iPhone, iPad, Android devices & more, with remote notification via email
Remote viewing is easier than ever to set up with UPnP (Universal Plug n Play) auto network configuration
Fight back against crime by deterring intruders, protecting your property and knowing what's happening at all times
A state-of-the-art, expandable solution for any home or business wanting complete protection
Protect the people you care about & cut the cost of crime with no on-going fees

Availability
The SwannSmart camera is available at RRP £299.99 from Maplins, Costco and other leading UK retailers. For more information:
www.swann.com
About Swann
Swann is a global leader in security monitoring solutions and fun gadgets targeting consumers through retail channels. In 2012 Swann celebrated its 25th anniversary as a manufacturer of consumer electronics products that are innovative, easy and cost effective.
The company's products are mainly do-it-yourself with easy-to-follow 'plug-and-play' instructions, free 24/7 technical support and retail-friendly product packaging aimed at home, office and small-to-medium retail users. For end users that don't have the time to do it themselves Swann can organize installation via its installer network.
For customers needing more high-tech solutions, Swann is at the forefront of the latest international trends including full HD 1080p monitoring systems, HD surveillance cameras, WiFi network video recording, live Smartphone connectivity and more.
Swann was founded in 1987 and now has offices in the USA, Canada, Australia, the UK, China and Hong Kong with distribution partners around the globe.
Swann's reseller network includes some of the world's largest retailers and distributors including Costco, Maplin, Fry's Electronics, RadioShack, Best Buy, Canadian Tire and Dick Smith.
For more information on Swann visit
www.swann.com
and follow them on
www.facebook.com/swanncommunications
or
www.twitter.com/swannsecurity