Lindholm's boat thriller A Hijacking comes to DVD and Blu-ray in August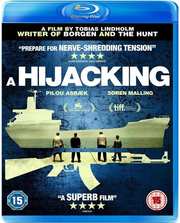 Take one big boat, some pirates, and a director better known as the writer of
Borgen
, what do you get? The answer comes on 26th August courtesy of
Arrow Films
, the thriller
A Hijacking
.
Both written and directed by Tobias Lindholm, this stars Pilou Asbæk, Søren Malling and Dar Salim. It has a runtime of 104 minutes and carries a 15 certificate, whilst the RRPs are £17.99 and £19.99 for the DVD and Blu-ray versions respectively.
Synopsis, and the sort of trailer that makes you want to see it right this minute, follow...
The cargo ship MV Rozen is heading for harbour when it is hijacked by Somali pirates in the Indian Ocean. Amongst the men on board are the ship's cook Mikkel and the engineer Jan, who along with the rest of the seamen are taken hostage in a cynical game of life and death.
With the demand for a ransom of millions of dollars a psychological drama unfolds between the CEO of the shipping company and the Somali pirates.