Tennis documentary The Battle of the Sexes hits DVD this July!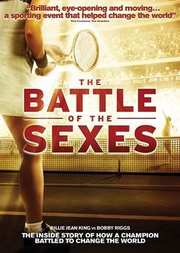 As we enjoy another amazing Wimbledon tennis grand-slam championship, come Monday some of us might well just be suffering from withdrawal symptoms, so
Kaleidoscope Home Entertainment
are aiming to fill that gap in our lives come this Monday 8th July.
Victoria Gregory's sport documentary
The Battle of the Sexes
centers around the 1973 match between the-then-Wimbledon champion Billie Jean King and the former men's champion, and self-proclaimed male chauvinist pig Bobby Riggs. The gripping match became the most watched tennis match in the history of the game.
Expect a recommended retail price for the DVD of around £15.99, alas no extras as far as we can tell.
Synopsis and trailer follow...
It was a match made in heaven. She was the darling of American tennis, an outspoken activist against sexism in sport and society; he was the charismatic, fast talking, hustling chauvinist showman. Yet their unlikely 'courtship', in the midst of a social revolution, captured the imaginations of people around the world, empowered a generation, and changed sport forever.
"Billie Jean King is one of the all-time tennis greats, she's one of the superstars, she's ready for the big one, but she doesn't stand a chance against me, women's tennis is so far beneath men's tennis." - Bobby Riggs, 1973
"I wanted to change the hearts and minds of people. And as we know, to change hearts and minds to match the law isn't that easy. So I had to beat him for a lot of reasons. But it wasn't about a tennis match - it was about social change." - Billie Jean King
Combining scintillating match footage with contemporary news reports, stylised dramatic reconstructions, and interviews with key contributors, journalists, and fans the film is set against the backdrop of 1970s America. A country embroiled in the midst of the Watergate Scandal, the end of the Vietnam War, and undergoing a huge social revolution as women struggled to break free from the traditional gender stereotypes of housewives and mothers.
Like a quirky romantic comedy, at its heart will be the blossoming friendship of King and Riggs; two polar opposites, with entirely different agendas, who came together to catapult themselves, and tennis, onto America and the world's centre court, and change sport forever! A sparkling contemporary soundtrack featuring hits from Aretha Franklin, John Lennon, Diana Ross And The Supremes and Helen Reddy bring the decadent '70s to life.