Paranormal Incident 2 comes to DVD in July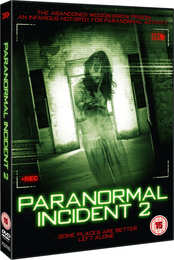 Okay, so we HATE getting press releases as PDFs, they are the absolute (second) worst thing when it comes to posting news items so if you are a PR company work out that every journalist/hack/whatever-we-are hates getting them and at least give them an alternative like a link to a website with the same info on it, or a Word doc or SOMETHING!!!
Or just carry on blindly sending out PDFs to everyone unaware that it affects the amount of coverage you get because we are actually really quite busy (and lazy) so if we can do a news item on someone else's new release which is a lot easier, we'll do that instead.
But we are running out of other material to share with you so for one day only here is one we had to extract from a horrible PDF. Sorry, we'll stop ranting now!
Arrow Films
are releasing
Paranormal Incident 2
on DVD this 8th July, priced at £12.99. Directed by David Chirchirillo, this stars a bunch of people not mentioned in the press release so they probably aren't anyone you've heard of.
This is probably a cash in on the succesful
Paranormal Activity
series, just as
Paranormal Entity
is. If you can remember when people went to video stores and rented DVDs (or even VHS tapes) you'll recognise the ploy, a movie that sounds very similar to something you've heard was quite good.
Sorry, PDFs make us angry and bitter!
Synopsis and trailer follow...
Woodburrow Prison: A near-derelict institution that once incarcerated the criminally insane is now a bone-fide paranormal hot-spot, rumoured to be the very location from which an FBI Paranormal team never returned a decade or so earlier.
Special Agent Watts, and his own elite FBI team, gather at the infamous Woodburrow to undertake a 'Demo Op', but there is something dark and sinister going on inside the blood-streaked walls, that is even beyond their combined imaginations.
At first a mysterious woman is found alive in one of the chambers and whilst she is interrogated the rest of the team venture further into the labyrinth where things begin to spiral wildly out of control as an evil force picks the team off one by bloody one.