Edgar Wallace's 1938 thriller The Terror hits DVD in June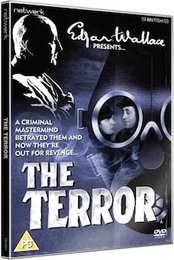 They sure did know how to name movies back in the olden days, as Edgar Wallace would tell you if he was still alive.
Network Video
are releasing 1938 thriller
The Terror
adapted from a play by the aforementioned writer.
Directed by Richard Bird, this stars Wilfrid Lawson and Bernard Lee, comes in its original full frame aspect ratio in its original black and white.
With a runtime of 73 minutes, this features a brand new transfer from the original film elements, and includes a Dolby Mono soundtrack. Expect an RRP of around £11.99.
Synopsis follows...
For ten years, The Terror has laughed at both police and public. And for ten years, two of his erstwhile associates, Joe Connor and Soapy Marks, have plotted revenge on the mastermind whose double-crossing sent them to Dartmoor without their share of the bullion stolen in a daring raid.
Connor is the first to arrive at Monk's Hall Priory, a guest house reputedly haunted by the ghost of a hooded monk. There is indeed a distinctly uncanny presence about the old place; but none of the guests suspect that The Terror is in their midst.