True story based Vinyl comes to DVD this July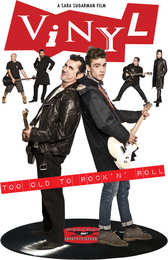 An unusual true story based feature from an unusual distributor,
Altive Media
have announced the release of
Vinyl
for 1st July on DVD. Written and directed by Sara Sugarman, this stars Phil Daniels, Keith Allen and Jamie Blackley.
Based on the story of Mike Peters' true rock and roll hoax of 2004, this feature has a 15 certificate and a runtime of 85 minutes. Extras include
Vinyl: Behind The Scenes
featurette, previously unseen interview with Mike Peters, 45Rpm: The True Story of Vinyl featurette, three music videos and Sara Sugarman's video diary.
After a booze-fuelled jam session, Johnny Jones and his old band-mates from the once revered The Weapons of Happiness come up with a gem of a pop punk single. The problem is that no one is interested in re-signing a bunch of aging rock stars. But Johnny's not one to quit easily. And he has a plan, a hoax that will reveal the sham that the music industry has become.
Johnny and his band-mates assemble a talent-less bunch of teenagers to be the face of their new single. Holed up in a house in North Wales, The Weapons of Happiness teach these young upstarts how to talk the talk and walk the walk before un-leashing them and their single upon the nation.