Cronenberg classic The Brood comes to Blu-ray and DVD this July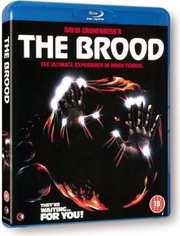 Ah David Cronenberg, how you touch the parts of our minds that most other horror directors cannot reach. And on this front good news for HD fans, because you can have your minds touched courtesy of
Second Sight Films
this coming 8th July.
1979 horror classic
The Brood
stars Oliver Reed, Samantha Eggar and Art Hindle. Both formats include interviews with Art Hindle, Cindy Hinds, cinematographer Mark Irwin, producer Pierre David, actor Robert A. Silverman and Cronenberg himself.
Both presented in the films original 16:9 aspect ratio with Dolby Stereo soundtracks, whilst the recommended retail prices are £15.99 for the SD release and £19.99 for the HD version.
Synopsis and trailer follow...
Frank Carveth is becoming increasingly concerned about his ex-wife Nola's secretive treatment at the sinister Somafree Institute of Psychoplasmics. Headed by cult figure Dr Raglan, his controversial and extreme methods seek to unleash his patients rage, which take on physical manifestations.
As Nola's increasingly psychotic anger is vented during her sessions, brutal murders befall those at whom it's directed. When Frank's daughter is abducted he is led to Raglan's Institute and a terrifying, repellent final confrontation, renowned as one of the most notorious scenes in horror cinema.