Supernatural: The Anime Series - On DVD Monday 27th May 2013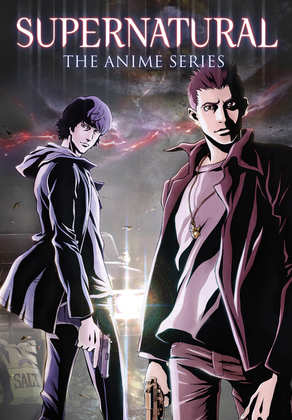 The first-ever live-action television series to be re-imagined as an anime series, "Supernatural: The Anime Series" brings a whole new dimension to the internationally acclaimed hit TV phenomenon.
Having lost their mother, Mary, under mysterious paranormal circumstances at an early age, young Sam and Dean Winchester are raised by their father, who, driven by revenge, becomes an obsessive hunter and destroyer of supernatural creatures and entities. Years later, when their father mysteriously disappears and Sam's girlfriend is killed in similar circumstances as their mother, the Winchester brothers follow in their father's footsteps, travelling the back-roads, highways and byways of America in search of answers and vengeance. It is a journey that brings them face-to-face with unimaginable horrors, from demons and vampires to ghosts and shape-shifters, unites them with loyal allies and reveals their eventual and totally unexpected destinies.
Made with the blessing and creative input of the original show's creator, Eric Kripke, and featuring the vocal talents of the live-action series stars, this animated series brilliantly covers the events of the first two seasons of "Supernatural" by recreating many of the original episodes while also introducing a whole batch of brand new material that explores the Winchesters' previously unseen childhoods and expanding upon the stories of several secondary characters. The trump card, however, is the anime's ability to go further, visually, than any live-action TV show could ever dream of going. The result makes for essential viewing for committed "Supernatural" fans and provides an ideal primer and introduction for those yet to become possessed by the haunting and action-packed saga of the Winchesters.
Jam packed with Extra Features, Supernatural: The Anime Series  is released on DVD  as an Amazon exclusive on Monday 27th May 2013 by Warner Brothers, with an R.R.P. of £29.99, rated 15.