Andrea Portes' true story based Hick comes to DVD in June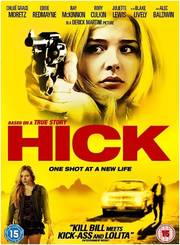 When is a teen drama not a teen drama? When it stars Chloë Grace Moretz is the answer, we suspect.
4Digital Media
have announced the release of
Hick
on DVD this coming 17th June.
Written by and based on the novel by Andrea Portes, this true story inspired drama also features Eddie Redmayne, Blake Lively, Juliette Lewis and Alec Baldwin.
With a runtime of 95 minutes, extras will include a making-of featurette whilst the recommended retail price will be £15.99.
Synopsis and trailer follow...
Small town teenager Luli escapes to Las Vegas, leaving behind her alcoholic and abusive parents. Armed with her smarts, a pistol and pocket money, she hitchhikes her way west.
Along the way, Luli crosses paths with Eddie, an unstable rebel with questionable motives and Glenda, a cocaine-snorting drifter on the run. Adapted from the critically acclaimed novel by Andrea Portes, this powerful story pulls you into a provocative world of drugs, seduction and murder.