True story based drama No comes to DVD this June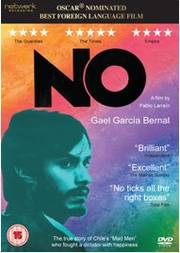 We are a bit of a fan of foreign cinema, so clearly we are enjoying the news that
Network Releasing
are all set to distribute the true story based drama
No
on 17th June.
Seamlessly blending scripted scenes with archive footage, this is a period piece which got an Oscar nomination. Directed by Pablo Larrain, this stars Gael Garcia Bernal, Alfredo Castro and Luis Gnecco.
The film will be on DVD priced at £19.99, with extras that include an interview with the directory, an additional Q&A with Larrain,
In conversation with Gael Garcia Bernal and Eugenio Garcia
featurette, an interview with Mariella Frostrup and Gael Garcia Bernal for
Amnesty International UK
, and image gallery.
Also available on download via Curzon and iTunes, the price for that will be £9.99.
Synopsis and trailer follow...
Cynical young advertising executive Rene Saavedra is asked to spearhead the 'No' campaign for those opposing the Pinochet regime to bring democracy to Chile.
With scant resources, constant scrutiny from individuals sympathetic to Pinochet's totalitarian regime including ad agency colleagues and the secret police, this bold and enthralling film looks at how a team of Chile's "Mad Men" and opponents of the dictatorial regime instigated change.