Horror flick The Echo comes to DVD this April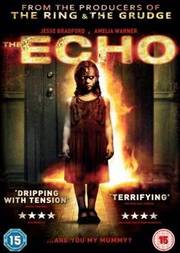 Horror flick woo woo!
Metrodome Distribution
have announced the 8th April release of
The Echo
, starring Jesse Bradford, Kevin Durand and Amelia Warner.
It's unusual for a feature to take so many years before it's out on DVD, especially a creepy psychological thriller from the producers of
The Ring
and
The Grudge
.
Anyway, that small fact aside, a few more for you. This has a 15 certificate s don't expect too much gore, it also ahs a runtime of 92 minutes and recommended retail price of £15.99. Alas no other details on this release to bring you.
Synopsis and trailer follow...
Bobby Walker, fresh out of prison and living in his dead mother's apartment as a conviction of his parole. Plagued by eerie echoes of the dead trapped in the building, Bobby's terror mounts as he begins to suspect his neighbours had a sinister hand in his mother's death... and could come for him next.