Two Andy Hamilton comedies come to DVD in May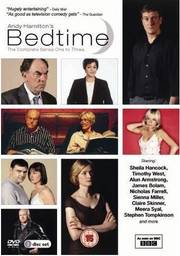 British comedy legend, or unsung hero if you don't listen to Radio 4 much or know a lot about British comedy, Andy Hamilton, has two of his penned TV series coming to DVD this 6th May, courtesy of
Acorn Media UK
.
The first of these is
Bedtime: Complete Series One to Three
, starring Shelia Hancock, Timothy West, Alun Armstrong, James Bolam, Nicholas Farrell, Sienna Miller, Claire Skinner, Fay Ripley, Meera Syal and Stephen Tompkinson.
With a recommended retail price of £25.99, and a runtime of 435 minutes spread across three discs, extras will include an interview with Andy Hamilton, featurette, filmographies and a picture gallery.
This neighbourhood comedy reveals the completely different lives of neighbours in a terraced street, told from their bedrooms during the last half-hour of the day.
Andrew and Alice Oldfield are the couple to whom, and around whom, so much is happening, a small suburban world of car alarms, noisy lovemaking, broken windows, newborn babies and revenge as a dish served fiery hot.
From the couple whose marriage is tested in unexpected ways, to the young model who falls into the clutches of tabloid journalism, from the grieving son and his empathetic father to the lover with a demanding deadline; from Christmas Eve to Boxing Day, over three series we are invited through open doors and closed windows into the engaging world of other people just before Bedtime.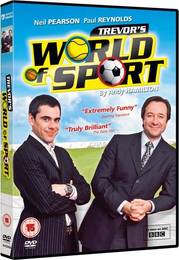 Joining the above is sitcom
Trevor's World of Sport
, starring Neil Pearson, Paul Reynolds, Rosalind Ayres, Cosima Shaw and Abdul Salis.
With a runtime of 200 minutes and a retail price of £19.99, extras include an interview with Andy, featurette, filmographies and pictor gallery.
Set in the cutthroat world of sports agents, Trevor is the nicest sports agent in the business. But being a decent person doesn't count for much in his game and he's struggling to stay afloat in the shark-infested waters of the industry, especially working alongside one of the most ruthless sharks, his best friend and business partner Sammy.
The hard-working pair are supported by their well-meaning put-upon staff, the ultra-religious personal assistant Theresa, the beautiful and razor-sharp German receptionist Heidrun and Barry the office junior with big ambitions.
In a world that seems to be falling apart around him, a marriage on the rocks, an attempted buyout and a high maintenance client who brings chaos in his wake, can Trevor maintain his integrity, his equilibrium and his sanity?