Pierre Melville's controversial French resistance Epic Army of Shadows comes to Blu-ray in April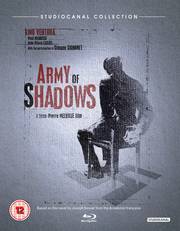 It's a Pierre Melville French classic, it's been digitally remastered and it's coming out on Blu-ray this 8th April.
StudioCanal
are bringing us all
Army of Shadows
starring Jean-Pierre Cassell, Lino Ventura, Paul Meurisse and Simone Signoret.
Expect a recommended retail price of around £20.99, and see the feature accompanied by a brand new one hour long documentary
Army of Shadows: The Hidden Side of the Story.
Film info and trailer follow...
The controversial French resistance epic originally released in 1969, was heavily criticised upon its release in France for its particular form of glorification of the Resistance. At the time, it appeared to be running against the tide of history, as attitudes to the war were about to take a U-turn, with a nation split between collaborationists and resisters.
American film-programmers took their cue from the French critics and on this basis, decided not to give it a US release. It was not until over 35 years later in 2006, that it was finally released in the US and was granted its due acclaim, including winning the New York Film Critics Circle Award for Best Foreign Language Film.