Evil Dead 2 Special Edition swallows your soul on blu-ray this April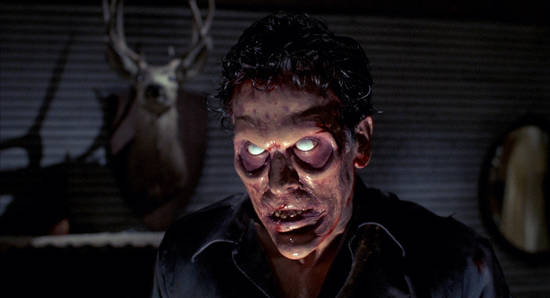 The Sam Raimi horror classic some of us have probably bought every single time it got released in a marginally better version (okay, I mean me) is coming out on Blu-ray in a better version! Courtesy of
StudioCanal
,
Evil Dead 2: Special Edition
turns up on 15th April.
Starring the legendary Bruce Campbell, along with Sarah Berry, Denise Bixler, Dan Hicks and Kassie Wesley DePaiva, this sequel is more of a remake that ignores everything which happened in the previous lower budget flick.
With a transfer we are reliably informed to be from the US 25th Anniversay release, extras will include a commentary track with Raimi, Campbell, co-writer Scott Spiegel and special effects artist Greg Nicotero,
Behind the Screams
and
Making of ED2
featurettes, trailer and photo galleries.
Along with new stuff! Yes new stuff! The additional features are
Swallowed souls: The Making of Evil Dead II,
Cabin Fever: A Fly on the Wall
behind the scenes featurette, and
Road to Wadesboro: Revisiting the Shooting Location of Evil Dead II
featurette.
Synopsis and trailer follow...
Ash, the sole survivor of the original, takes his girlfriend Linda to a secluded cabin in the woods where he plays back a professor's tape recorded recitation of passages from the Book of the Dead.
The spell calls up an evil force from the woods that turns Linda into a monstrous Deadite, andthreatens to do the same to Ash. He is forced to single-handedly battle thelegions of the damned as the most lethal, and groovy, hero in horror movie history.