Swann Introduces Pro Series Security Cameras
New easily installed security cameras introduce professional quality DIY surveillance to home and small business environments with wide-view lenses and 700 TV Lines high resolution image capture
Swann has shifted DIY video surveillance to another level with its new Pro Series range of cameras that boast an unprecedented 700 TV Lines of resolution.
The Pro Series range have wide-view capability to capture crystal clear colour images at day or night and include a variety of offerings for both roof-mounted dome cameras and traditional wall-mounted surveillance cameras. The Pro series offers the latest technology at outstanding prices. Key features are the inclusion of Sony Effio technology and wide dynamic range for clear images in any light. The"Effio" technology realizes a
horizontal resolution of over 650 TVL
in combination with Sony's newly developed
960H CCD image sensor
. This enables clearer pictures with higher sensitivity compared to conventional CCTV cameras.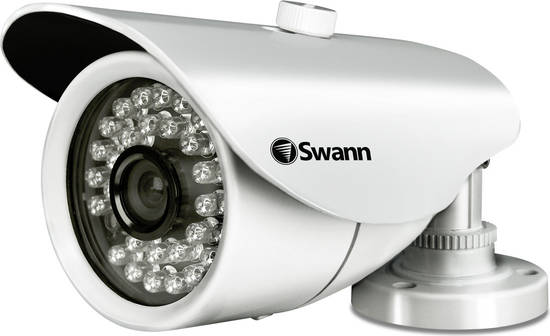 Easily connected to DVR systems and to the Internet, Swann's Pro Series allows the security conscious home or business owner to use the On-Screen Display (OSD) controller and built-in software to customise the camera settings in real time.
According to Jeremy Stewart, VP, Global Marketing at Swann, the new Pro Series cameras allow DIY surveillance customers to enhance their personal safety and property protection capabilities for additional peace-of-mind.
"This range of cameras adds a new level of professionalism for people who want to be proactive about their security surveillance," Stewart said. "Combining 700 TVL high resolution and on screen remote control of wide-view zoom as well as a stylish but sturdy design allows anyone to take control of their own surveillance with professional quality tools.
"The Pro Series cameras are extremely easy to install, can be connected to existing monitors and/or DVRs for immediate surveillance and can be customised on the fly through the OSD.
"When combined with our SwannView app, the cameras can also be controlled remotely via a laptop, tablet or smart phone. High resolution 700 TVL video capture is as good as any professional service offers and is perfect for wide angle viewing of large rooms, hallways, lobbies, reception areas, warehouses, showrooms, garages, parking lots or any number of other applications."
Swann's Pro Series incorporate a heavy duty design and construction that makes them weather and vandal-resistant. They allow you to fight back against crime by deterring intruders, safeguarding loved ones and protecting your property.
In addition to the camera, each retail package includes the OSD controller, software and 18 metres of cable as well as all the adapters, mounting screws/plugs and operating instructions needed to get started.
There are five cameras currently available in the Swann Pro Series range:
PRO-760™ - Super Wide-Angle security camera RRP £99.99
PRO-761™ - Super Wide-Angle Dome Camera – RRP £99.99
PRO-770™ - Professional All-Purpose Security Camera – RRP £99.99
PRO-771™ - Professional All-Purpose Dome Camera – RRP£99.99
PRO-780™ - Ultimate Optical Zoom Security Camera – RRP £129.99
PRO-781™ - Ultimate Optical Zoom Dome Camera – RRP £129.99
Swann's Pro Series cameras are available from leading retailers such as Maplin.