London film noir drama I, Anna hits Blu-ray and DVD this March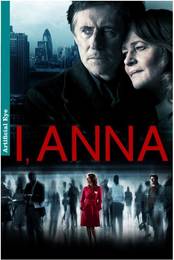 A modern film noir? Set in London? Peaked your interest already? Hopefully so, as
Artificial Eye
have announced the release of
I, Anna
on DVD and Blu-ray this coming 25th March.
Directed by Barnaby Southcombe, this stars Charlotte Rampling and Gabriel Byrne in the title roles, features a running time of 91 minutes, and extras that include a commentary track with Southcombe and Rampling, deleted scenes, a featurette and trailer.
The recommended retail price will be £15.99 for the DVD and an as always higher £19.99 for the Blu-ray version.
Marketing blurb and trailer follow...
The lives of a beautiful divorcee and a troubled detective intersect during the investigation of a vicious murder on the grimy, rain-soaked streets of London, sparkling a tangled web of passion, intrigue and deceit. Featuring a stellar cast, including Charlotte Rampling, Gabriel Byrne, Eddie Marsan and Hayley Atwell, I, ANNA is a stunning neo-noir from director Barnaby Southcombe, one of Britain's greatest up-and-coming talents.