Lewis: Series 7 comes to DVD in February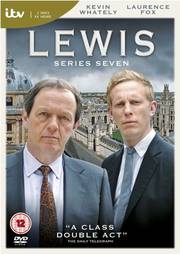 The spin-off from a long running series is now itself more than a long running series, and
ITV Studios Home Entertainment
are releasing the latest season on DVD this coming 18th February.
Starring Kevin Whately and Laurence Fox,
Lewis: Series 7
features appearances from Clare Holman and Rebecca Front.
Inspector Robbie Lewis ably assisted by his partner DS James Hathaway. Together they investigate more murder mysteries against the historic and glorious backdrop of Oxford and its University Campus, assisted by Dr Laura Hobson and Chief Superintendent Innocent.
The recommended retail price will be £19.99.
Episode synopsis follow...
Down Among the Fearful
When psychologist Reuben Beatty is murdered while moonlighting as a psychic Lewis and Hathaway struggle to unpick his baffling double life. Dark forces are at work, and not just in the afterlife. Written by Simon Block and directed by Brian Kelly, Down Among the Fearful will guest star NEIL STUKE (Poirot, Silk), DOMINIC MAFHAM (DCI Banks, Land Girls) and SANJEEV BHASKAR (Silent Witness, The Indian Doctor).
The Ramblin' Boy
Chief Superintendent Martin Cornish goes missing and a recently embalmed body is discovered by an isolated farm track - could there be a link? Hathaway goes on sabbatical and Lewis takes an awkward young constable under his wing. The Ramblin' Boy is written by Lucy Gannon and directed by Dan Read. The film guest stars PETER DAVISON (Law & Order:UK, New Tricks), LUCY SPEED (EastEnders, The Bill) and TOM BROOKE (Restless, Mrs Biggs).
Intelligent Design
After seven years of ducking the question, Lewis and Hobson are embarking on a relationship. Meanwhile an elderly don is murdered on the night of his release from prison. Written by Stephen Churchett and directed by Tim Fywell, the guest stars include writer STEPHEN CHURCHETT (Law & Order: UK, EastEnders), ALISON STEADMAN (Little Crackers, Gavin & Stacey), and EDWARD FOX (Marple, Oliver Twist).