Serial killer thriller Chained comes to DVD and Blu-ray in February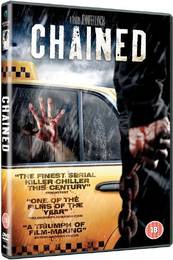 Bored of the usual dark side of life horror flicks and want to try something a bit more believable? Well writer and director Jennifer Lynch's latest work may appeal to you.
Arriving on 4th February courtesy of
Anchor Bay Entertainment UK
, uncompromising thriller
Chained
features an intensely disturbing performance by Vincent D'Onofrio, and co-stars Eamon Farren, Jake Weber, Evan Bird and Julia Ormond.
With an 18 certificate and recommended retail price of £15.99 for the DVD and £19.99 for the Blu-ray, extras will include an alternate version of Mary's Murder.
Synopis and trailer follow...
When he was 9 years old, Tim and his mother were abducted by taxi-driving serial killer Bob. Tim's mother was murdered and Tim kept as a chained slave, forced to bury the bodies of young women Bob drags home and keep
scrapbooks of the crimes.
Now a teenager, Tim and Bob share a depraved father/son/protégé relationship. But who will ultimately sever the bond between 'family' and unimaginable horror?