The New Garmin Oregon series - The Most Complete Outdoor Experience Ever
Garmin has announced the all new Oregon 600/650 series - a rugged touchscreen handheld navigator, which guides precisely via high end GPS + GLONASS satellite technology, deploying an 'outdoor-perfected' transflexive display with great readability in full bright sunlight and in the shade.
The new Oregon series represent the advancement of the popular Oregon 500 series adding numerous new and improved functionalities. The enhanced processor power allows a new level of interaction with Garmin high quality maps - zoom in, pan out, and rotate using multi-touch in any conditions and even with most gloves - whilst conserving Garmin's renowned long battery life for extended adventures.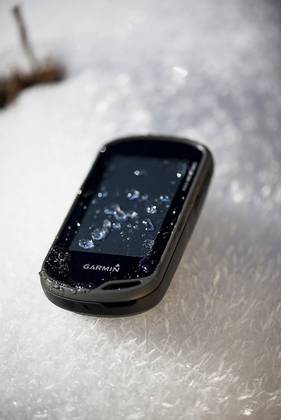 The integrated 8MP autofocus camera with digital zoom and automatic flash/torch, plus customisable buttons for one-touch image capture enables users to mark their memories and supports paperless geocaching or waypoint marking. When connected with a Smartphone via the free Garmin Basecamp App, Oregon users can connect to others, share activity data and check for great Garmin Adventures nearby from wherever they are. Oregon "t" models provide good guidance for Europe out of the box - preloaded with a 100k European Recreational Map -  making the Oregon series a must have for serious outdoors types.
"The new Oregon series was designed to be the best navigation tool for many different outdoor activities. Oregon uses the sun's light to produce a display that is twice as bright compared to the previous models and thanks to GPS and GLONASS support it provides a more accurate location in a shorter time", said Martin Resch, Garmin's Product Manager  for Outdoor EMEA. "A great enhancement is its capability to upload and download trip data via a smartphone and the Garmin BaseCamp mobile app. Together with its great durability and its unparalleled battery time, this Oregon becomes one of the most versatile and reliable outdoor GPS devices on the market."
Most accurate navigation and positioning ever
The Oregon series has a built-in 3-axis electronic compass with accelerometer tilt compensation, which shows where users are heading even when they are standing still, or not holding it level. Its barometric altimeter tracks changes in pressure to pinpoint users' altitude, and they even can use it to plot barometric pressure over time, helping them to keep an eye on changing weather conditions. And with its high-sensitivity, WAAS/GLONASS enabled GPS receiver and HotFix satellite prediction, Oregon locates user's position quickly and precisely and maintains its GPS location even in heavy cover and deep valleys. When using GLONASS satellites, the time it takes for the receiver to "lock on" to a position is (on average) approximately 20 percent faster than using GPS only. And when using both GPS and GLONASS, the receiver has the ability to lock on to 24 more satellites than using GPS alone.
Intuitive Interface and extra long battery life
Also new to the Oregon is the full track view—where users will see the entire elevation plot and quickly move their zoomed view to any place on the plot. Future plot uses users' mapping data to show them what to expect ahead. Weighing just 199 gramm the Oregon 650/650t come with a rechargeable NiMH battery pack (optional with 600/600t) producing a state-of-the-art dual battery system. The battery pack provides up to 16 hours of life on a single charge and will re-charge itself within the unit when external power is detected. When out on a long adventure and additional power is needed, users can use two AA batteries as a backup.
Mark your memories and share it with friends
There is no longer a need to take an additional camera into the outdoors to capture "real" quality photos. The built in 8 megapixel autofocus digital camera on the Oregon 650 & 650t takes photos worthy of sharing, printing and keeping. Each photo is geotagged with the location of where it was taken, allowing users to navigate back to that exact spot in the future. Take charge of the next adventure with BaseCamp software that lets users view and organize maps, waypoints, routes, and tracks. This free trip-planning software even allows users to create Garmin Adventures — where they can upload their photos alongside the route travelled for online storage and sharing with friends, family or fellow explorers. BaseCamp displays optional topographic map data in 2-D or 3-D on their computer screen, including contour lines and elevation profiles.
Packed with Connectivity
Thanks to Oregon's Bluetooth capabilities users can also wirelessly transfer large files like photos, Adventures and Custom Maps between Oregon 600-series units. With a Bluetooth enabled smartphone you can also share activity data including waypoints, routes and tracks with friends and family and check for great Garmin Adventures nearby from wherever you are! Oregon is also ANT+ wireless enabled, making the experience even more complete via heart rate, cadence, chirp and temperature sensors.
On a hike
With a large array of Garmin GB Discoverer map options offered you can experience the highest level of Ordnance Survey map detail available in Great Britain, with both Landranger and Explorer map options available, featuring terrain contours, elevations, summits, trails, trig points, campsites, geographic points and more.
On the road
Optional City Navigator mapping provides detailed street maps, millions of preloaded points of interest and on screen turn-by-turn directions to your destination, and an optional Auto Nav kit adds a suction mount and car charger.
On a bike
Ideal for a trail workout, the lightweight Oregon is compatible with Garmin's heart-rate monitors and speed/cadence sensors, and an optional handlebar mount makes it easy to track your speed, distance, elevation and location.
On the water
Add BlueChart g2 maps, which provide everything you need for a great day on the water, including depth contours, navaids and harbors.
Unlimited Geocaching
The Oregon can hold a huge number of geocaches and supports GPX files from all kind of geocaching platforms like geocaching.com and OpenCaching.com for downloading geocaches and their details straight to the unit. Using this paperless geocaching feature, users are not only helping the environment but also improving efficiency. The Oregon stores and displays key information, including location, terrain, difficulty, hints and descriptions— it even filters caches to make searching a breeze, and connects to Chirp enabled caches.
The new Oregons are expected to be available in Q1 2013 and will have a suggested retail price of £319.99 (600), £379.99 (600t), £379.99 (650) and £439.99 (650t).
Oregon is the latest solution from Garmin's growing outdoor segment, which focuses on developing technologies and innovations to enhance users' outdoor experiences. Whether it's Golfing, Hiking, Mountaineering or Geocaching, Garmin outdoor devices are becoming essential tools for outdoor enthusiast of all levels.
For more information about Garmin's other outdoor products and services, go to
http://www.garmin.com/en-GB/explore/onthetrail
,
www.garmin.blogs.com
and
http://twitter.com/garmin