Films to watch out for in 2013
Some films to watch out for in 2013. Watch for more details in the New Year...
PLAYING FOR KEEPS
Distributor: Lionsgate
Director: Gabriele Muccino
Cast: Gerard Butler, Jessica Biel, Dennis Quaid, Catherine Zeta-Jones, Uma Thurman, Judy Greer
Release Date: 1st January 2013
Directed by Gabriele Muccino (The Pursuit of Happyness, Seven Pounds), Playing For Keeps stars Gerard Butler as a retired world famous football star who tries to rebuild a relationship with his son and ex-wife by coaching his son's football team. While football is a hands-free sport, the mothers of the other kids can't keep their hands off the coach, which imperils his plan.
I GIVE IT A YEAR
Distributor: Studio Canal
Director: Dan Mazer
Cast: Rose Byrne, Rafe Spall, Anna Faris, Simon Baker, Stephen Merchant, Minnie Driver and Jason Flemyng
Release Date: 8th February 2013
I Give It A Year is a brand new comedy from the writer of Borat and Bruno that lifts the veil on the realities of the first year of marriage.
Since they met at a party, ambitious high-flyer Nat (Byrne) and struggling novelist Josh (Spall) have been deliriously happy despite their differences. Josh is a thinker, Nat's a doer…..but the spark between them is undeniable.
Their wedding is a dream come true, but family, friend and even the minister who marries them aren't convinced that they can last. Josh's ex-girlfriend, Chloe (Faris), and Nat's handsome American client Guy (Baker), could offer attractive alternatives….
With their first anniversary approaching, neither wants to be the first to give up, but will they make it?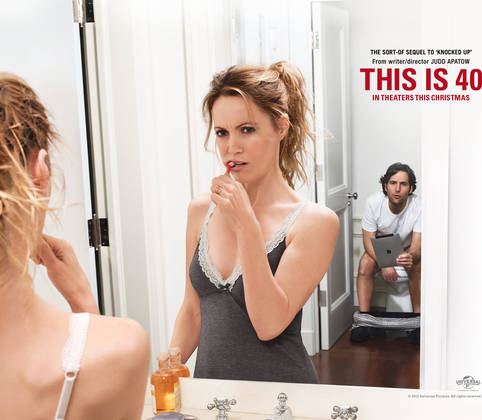 THIS IS 40
Distributor: Universal
Director: Judd Apatow
Cast: Paul Rudd, Leslie Mann, Megan Fox, Jason Segel, Chris O'Dowd, John Lithgow, Iris Apatow, Maude Apatow, Melissa McCarthy, Robert Smigel, Charlene Yi and Albert Brooks
Release Date: 14th February 2013
Writer/director/producer Judd Apatow (The 40-Year-Old Virgin, Funny People) brings audiences This Is 40, an original comedy that expands upon the story of Pete (Paul Rudd) and Debbie (Leslie Mann) from the blockbuster hit Knocked Up as we see first-hand how they are dealing with their current state of life.
WELCOME TO THE PUNCH
Distributor: Momentum Pictures
Director: Eran Creevy
Cast: James McAvoy, Mark Strong, Andrea Riseborough, Johnny Harris, Daniel Mays, Daniel Kaluuya, Natasha Little, Ruth Sheen, Jason Flemyng, David Morrissey, Peter Mullan
Release Date: 15th March 2013
Welcome To The Punch finds ex-criminal Jacob Sternwood (Strong) forced to return to London when his son is involved in a heist gone wrong. This gives his nemesis, detective Max Lewinsky (McAvoy), one last chance to catch the man he's always been after. As the two enemies hurtle towards an unavoidable face off, they start to uncover a deeper conspiracy they both need to solve in order to survive.
Written and directed by London born film maker, Eran Creevy, Welcome to the Punch was filmed across the capital and was given unprecedented access to Canary Wharf.
HUMMINGBIRD
Distributor: Lionsgate
Director: Steven Knight
Cast: Jason Statham, Vicky McClure, Benedict Wong
Release Date: 3rd May 2013
From the award winning team behind Eastern Promises, comes the story of an ex-Special Forces soldier, Joey Jones (played by Jason Statham), who has found himself homeless on the streets after going on the run from a military court-martial.
Written and directed by Steven Knight (Eastern Promises), the thriller is produced by Academy Award nominated and BAFTA winning Paul Webster (Atonement) and Guy Heeley (The King's Speech).
CUBAN FURY
Distributor: StudioCanal
Director: James Griffiths
Cast: Nick Frost, Rashida Jones, Chris O'Dowd, Olivia Colman, Ian McShane, Kayvan Novak and Alexandra Roach
Release Date: TBC – Spring 2013
Beneath Bruce Garrett's shabby, overweight exterior, the passionate beating heart of a salsa king lays dormant. Only one woman can reignite his Latin fire. Spotlight hits, sweat drips, heels click - Nick Frost IS Cuban Fury.
DESPICABLE ME 2
Distributor: Universal
Director: Pierre Coffin, Chris Renaud
Cast: Steve Carell, Kristen Wiig
Release Date: 28th June 2013
Films still in production
ONE CHANCE
Producers: Mike Menchel, Brad Weston, Kris Thykier, Simon Cowell, Harvey Weinstein and Bob Weinstein
Director: David Frankel
Screenplay: Justin Zackham
Cast: James Corden, Julie Walters, Mackenzie Crook, Colm Meaney, Jemima Rooper, Alexandra Roach
Most people only dream about becoming a famous superstar but against all odds one man from Wales did just that and this is his journey.
From the director of The Devil Wears Prada, One Chance is the remarkable and inspirational true story of Paul Potts who lived to sing. A shy, bullied shop assistant by day and an amateur opera singer by night, Paul became an instant YouTube phenomenon after being picked by Simon Cowell for 'Britain's Got Talent'. Wowing audiences worldwide with his phenomenal voice, Paul went on to win 'Britain's Got Talent' and the hearts of millions.
POSTMAN PAT 'YOU KNOW YOU'RE THE ONE'
Producers: Robert Anich, Miles Horst, Ceri Barnes and Annika Bluhm
Director: Mike Disa
Screenplay: Kim Fuller and Annika Bluhm
Cast: Stephen Mangan, Rupert Grint, David Tennant, Jim Broadbent
The film finds Pat, everyone's favourite postman, coming face-to-face with the temptations of money, status and a shiny new suit when he enters a national TV talent show competition that threatens to tear him away from his hometown of Greendale and the friends he loves. What happens when kindness meets selfishness? When local fame meets global notoriety? A nice cup of tea is kicked aside by a frappacappucino? Pat is set to find out as he falls for the age old temptation of the grass being greener…
A LONG WAY DOWN
Producer: Finola Dwyer, Amanda Posey
Director: Pascal Chaumeil
Screenplay: Jack Thorne
Cast: Pierce Brosnan, Toni Collette, Aaron Paul, Imogen Poots, Sam Neill
New Year's Eve on the top of a London skyscraper. Martin (Brosnan) is literally on the edge. A once-beloved TV personality, he's now desperate to jump. But he's not alone. Single mother Maureen, (Collette), sassy teen Jess (Poots), and failed musician turned pizza-delivery boy JJ (Paul), have all turned up on the same roof with the same plan.
Instead of jumping, these four strangers make a pact to stay alive and stay together until Valentine's Day at least. Both funny and poignant, A Long Way Down follows this group of unlikely friends as they try to pull back from the brink.
SUNSHINE ON LEITH
Producer: Allon Reich & Andrew Macdonald (DNA Productions) and Arabella Page Croft & Kieran Parker (Black Camel Pictures)
Director: Dexter Fletcher
Screenplay: Stephen Greenhorn
Cast: Peter Mullan, Jane Horrocks, George McKay, Kevin Guthrie, Antonia Thomas and Freya Mavor
Written and adapted by Stephen Greenhorn from his hugely successful and critically acclaimed stage musical of the same name, this universally appealing contemporary musical is set in Scotland and imaginatively features the legendary music of The Proclaimers to tell a moving and uplifting story.