False Trail prequel The Hunters is out now on DVD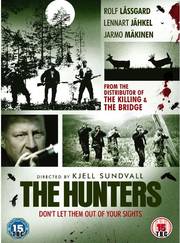 Arrow Films
are today releasing
The Hunters
on DVD, the prequel to director Kjell Sundvall's other work,
False Trail
. Starring Rolf Lassgård, the Swedish titled
Jägarna
originally came out in 1996 and also features Lennart Jähkel, Peter Stormare, Annika Nordin, Kim Tjernstrom and Jarmo Mäkinen.
Written by Björn Carlström and Stefan Thunberg and produced by Björn Carlström, Per Janérus and Peter Possne, the runtime is 113 minutes, whilst the recommended retail price will be £12.99.
Synopsis and trailer follow...
After working for the Stockholm police for several years, Eric returns to his home village to live with his younger brother Leif and work in the local police department.
At first welcomed home with open arms, Eric soon forges a path of estrangement and destruction when he single-handedly sets about solving an on-going case concerning the slaughter of local reindeer, a problem that the town cops have been plainly ignoring.
When Eric learns that his brother is involved, events take a further turn for the worse and violence erupts in the village as the closed-community unites against Eric's quest for truth and ultimately, justice.