iChic Gear 'Oxford Tweed' - Gentlemen's iThing Cases
From iChic Gear of Switzerland - Oxford Herringbone Tweed iCases
These new Tweed cases cost from £20 to £50 delivered to the UK, are made from fine fabrics, provide excellent device protection and offer a sense of style that is missing from most of the competition.
- Sensibly priced luxury goods
- For ladies and gentlemen of refined taste
- Beautifully made and finished, competing with more expensive brands
- Brown Herringbone Tweed with an Orange micro-fibre lining
- Grey Herringbone Tweed with a Purple micro-fibre lining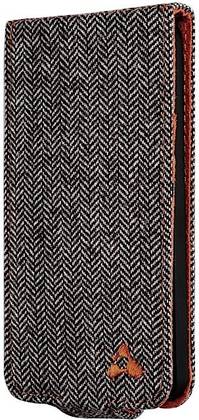 - For iPad - folio cases
- For iPad Mini - folio cases (coming soon)
- For iPhone 4/4S and iPhone 5 - flip cases
- For iPhone 4/4S - soft pouches
- lightweight, slim designs add little bulk
- stylish yet tough protection with integral protective hard shells
- iPad cases feature leather trim, magnetic closures & power on/off magnets
- iPad cases are Fold and Stand designs
- iPhone cases & pouches feature magnetic closures
- iPhone Flip Cases feature 2 x Credit Card Slots
About iChicGear
Founded in picturesque Geneva, Switzerland, iChicGear is a leading manufacturer of accessories, cases and bags for Apple devices & more, bridging the gap between modern technology and old fashioned luxury.
The company designs and manufactures, useful and affordable products for users in the Americas, Europe, and Asia, through major retailers and online.