Zombie flick Before Dawn comes to Cinemas and DVD in February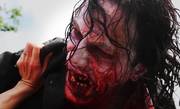 The world always needs more zombie movies! And
Metrodome Distribution
are bringing us one, on 22nd February in cinemas and the 25th February on DVD, to be precise.
Directed by and starring Dominic Brunt, yes that guy off
Emmerdale
, and written by his wife Joanne Mitchell along with Mark Illis, is
Before Dawn
. It also stars Joanne too, along with Nick Evans from
Shameless
.
Alas no details on price or extras.
Synopsis and trailer follow...
Alex and Meg's marriage is hanging by a thread. The solution seems simple, a romantic holiday to an idyllic cottage in the Yorkshire Dales.
This is the chance both of them need to find themselves, and rediscover their love for one another. But the Yorkshire Dales aren't romantic, and the idyllic cottage isn't too peaceful!
The weekend that starts out as an opportunity for love and affection, takes an unexpected turn, into a fierce fight for survival as it becomes clear that they're not alone in this rural haven.