Psychological thriller A Thousand Kisses Deep hits DVD in February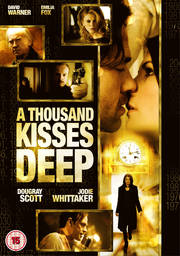 Take one Israeli director, add a load of British actors and some time travel, what do you get? The answer is
A Thousand Kisses Deep
which arrives on DVD this coming 4th February courtesy of
Kaleidoscope Home Entertainment
.
Directed by Dana Lustig, this features a cast that can almost interchangeably be prefixed with the words wonderful and lovely, starring as it does Dougray Scott, Jodie Whittaker, Emilia Fox and David Warner.
With a run time of 81 minutes and a certificate 15 rating, extras include A Thousand Cuts featurette and deleted scenes, whilst the recommended retail price will be £14.99.
Synopsis and trailer follow...
Witnessing the tragic and apparent suicide of an elderly woman, Mia is left shattered and unnerved as she finds on the deceased a photograph of herself and her former lover.
Persuading a building's custodian Max, Mia gains access to the woman's flat hoping to find some answers to explain the tragedy. However, when inside, she finds only more questions as she is surrounded by her own possessions and an eerily familiarity.
Confused and disturbed, Mia is left fighting her past to see if she can change the future in this shocking and twisting psychological thriller.