Wildlife documentary The Penguin King arrives on DVD and Blu-ray this November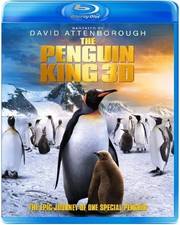 Wildlife documentary narrated by national treasure David Attenborough? Yes please!
Kaleidoscope Home Entertainment
have announced the release of
The Penguin King
for 19th November. Produced by
Flying Monsters 3D
team Anthony Geffen and Sias Wilson, the HD version also comes in 3D.
With a run time of approximately 75 minutes, extras include the
Making of the Penguin King
featurette. The recommended retail price will be £15.99 for the DVD and £19.99 for the Blu-ray, which also plays in 2D before you panic.
Synopsis and trailer follow...
South Georgia, alone in a vast ocean 900 miles from Antarctica and a mere 100 miles long is a wild rugged landscape with mountain ranges, vast glaciers, windblown plains half buried beneath snow and ice.
Three years ago, the Penguin King left home. Now he is returning to the place where he was born and raised, Penguin City. One of the most densely-packed, sought-after pieces of real estate in the entire southern hemisphere and somehow he must establish his own place in it. He must find a mate.
What follows is a journey through the most challenging time of the Penguin King's life. His story is often comic, sometimes tragic, and ultimately triumphant: a rite of passage set on one of the earth's last great wildernesses.