British Legends of Stage and Screen documentary comes to DVD in December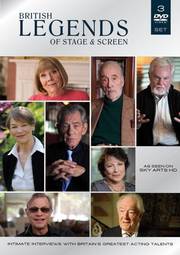 What do you get if you take a series of brand new in depth interviews with a collection of Britain's best post-war actors? The answer is a 10th December release from
Odeon Entertainment Group
, entitled
British Legends of Stage and Screen
.
Directed by Anthony Fabian and produced by John Dunworth and Anthony Fabian, with executive producer Sandy Lieberson, this features Sir Derek Jacobi, Claire Bloom, Sir Michael Gambon, Dame Diana Rigg, Sir Christopher Lee, Glenda Jackson, Michael York and Sir Ian McKellen.
Originally screened on Sky Arts in September, this three DVD set consists of eight forty-five minute episodes, presented in widescreen with a Dolby Stereo soundtrack. The recommended retail price will be £19.99.
Synopsis follows...
Late 1940s/early 50s... Britain is emerging from the gloom and austerity of the war years with an appetite for change and fresh optimism. Social upheaval and urban renewal brings with it a demand for different forms of culture and entertainment. It is a time of enormous growth for the British entertainment industry and new stars are bursting on the scene to lead the way.
Many of these extraordinary artists are still alive today. These cultural icons, whose collective memories and experiences are of incalculable, historical value, have taken part in an exciting new interview series called British Legends of Stage and Screen.
Reflecting not only on their careers in theatre, film and television, the artists also look back on a changing time, a life of extraordinary encounters and the events that shaped their lives.