Two classic French films out on Blu-ray and DVD in November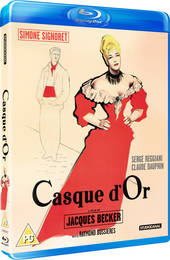 Two classic releases from French cinema to bring you news of today, both celebrating their anniversaries, one twenty years older than the other, each courtesy of distributor
Studio Canal
and turning up on 5th November.
First up we have the older title, enjoying its 60th Anniversary on Blu-ray is
Casque D'Or
, written and directed by Jacques Becker. This stars Simone Signoret, Serge Reggiani and Claude Dauphin.
In it's original full frame aspect ratio, DTS HD Master 2.0 French language soundtrack with English subtitles, extras will include At the Heart of Emotions: The Legend of Golden Marie featurette. The recommended retail price will be £22.99.
Synopsis and trailer follow...
Set in Paris at the turn of the 19th Century, Casque D'Or follows the love affair between gangster's moll, Marie and reformed criminal Georges Manda. When mob boss, Felix Leca, takes an active interest in their affair, an underworld rivalry ensues leading to a treacherous and tragic end.
Casque D'Or is a classic, poetic tale of doomed romance based on the true-life Leca-Manda scandal. Evoking the Belle Epoque period perfectly and with an unforgettable femme fatale performance from Signoret, Casque D'Or is considered a Becker masterpiece.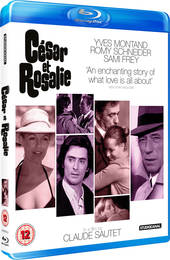 Joining the above is
César Et Rosalie
, celebrating its 40th Anniversary on both DVD and Blu-ray. Directed by Claude Sautet it stars Yves Montand, Romy Schneider and Sami Frey.
Both options come with 1.66:1 video and French mono soundtracks with English subtitles, and a
Serenade for Three
featurette. The recommended retail price will be £15.99 for the DVD, and £22.99 for the Blu-ray.
Synopsis follows...
Rosalie is a beautiful vivacious young woman involved with a charming, successful businessman called César. He is crazy about her and his exuberant vitality satisfies Rosalie's terrific lust for life. One day out of the blue Rosalie's old flame David appears, desperate to win back her affections.
César's intense jealousy shocks Roaslie and she ends up running into the arms of David and the pair are separated. Rosalie however begins to doubt that she's made the right choice, until fate ends up deciding for her.