Surreal 70s comedy with End of Part One: The Complete Series on DVD this November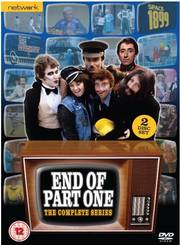 A lot of British comedy came and went after one or two series, some of it classic and often repeated, some of it not so classic. A few bits of it just didn't quite become classic but were worth a watch none the less, but have since been lost in the ravages of time and never repeated.
Today we have news of something which fits into at least one of those categories, as
Network Video
announce the release of 70s show
End of Part One: The Complete Series
for 5th November on DVD.
Written by Andrew Marshall and David Renwick, the surreal satirical soap opera slash sketch show, was the TV port of Radio 4 series
The Burkiss Way
.
The cast includes Sue Holderness, Denise Coffey, Fred Harris, Dudley Stevens, David Simeon and Tony Aitken. It was produced by Simon Brett.
This set presents both series, complete and uncut, for the very first time. With a run time of approximately 350 minutes, the recommended retail price will be £19.99.
Synopsis and a clip follow...
Series one centres on Vera and Norman Straightman, a couple whose efforts to live a quiet life are constantly shattered by the unwelcome intrusions of guests from the world of television.
While series two's combination of short, sharp sketches and inspired, mildly deranged slapstick prefigured Not the Nine o' Clock News, to which the writers would contribute; both afford ample opportunity to parody the style and content of late '70s television.