Ann Hui's award winning A Simple Life comes to Blu-ray and DVD in November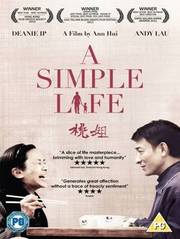 More recent world cinema to bring you news of now, as
Arrow Films
are pleased to announce a release on both formats by veteran Hong Kong director Ann Hui.
His award winning feature
A Simple Life
arrives on 19th November, and stars Deanie Ip and Andy Lau. Inspired by real life events, is a story of unsung heroism and every day love.
Extras will include a making-of featurette and trailer, presented in a Dolby Stereo Cantonese soundtrack with English subtitles. The recommended retail price will be £17.99 for the DVD and £19.99 for the Blu-ray.
Synopsis and trailer follow...
The film centres around the moving relationship between an ageing servant and her employer, now a successful film producer. Ah Tao has served a Hong Kong household for 40 years, and now that most of the family have emigrated to the US, she remains as the dutiful maid to Roger, the youngest son, sharing his compact apartment.
One day Roger comes home from work to find that Ah Tao has suffered a stroke. He rushes her to hospital, where she announces that she wants to retire and move to a nursing home.
As the days go by, and Ah Toa's health starts to deteriorate, the tables are turned and Roger slowly transforms from the detached single man to the devoted carer of an elderly servant, as if she were his mother.