Anime Review Roundup
News Snippets
It's been a couple of weeks since my last review roundup, and as always news has been happening in the interim, most of it of the disappointing kind. Last week saw Scotland Loves Anime, where a wodge load of anime movies were premiered and showcased, including the K-On! movie (still waiting for Season 2 here), and the Berserk movies. This wouldn't normally be too disappointing, but we Englishers better take advantage of this film festival while it's still convenient. By 2015, we might need a passport and visa to attend!
More disappointments in the form of slippages and delays. Wonky subtitles have pushed back the Fullmetal Alchemist Brotherhood OVAs to November 19th, which is why we weren't watching it last week. That has had a knock on effect in the schedules, and Clannad: After Story Part 2 will now be a few weeks late, coming out on December 3rd. Fractale was intended to come out in December, and while Manga haven't commented as yet, all the e-tailers have pushed the release date to April 2013, to which I can only exclaim Bugger! For the first time I was looking forward to a release on the strength of its cover art alone. By the time 2013 rolls around, there will probably be a few quotes, an episode count triangle, and an inappropriate tagline marring the artwork. Hopefully the delay means that it'll be a Blu-ray DVD combo instead...
The pre-Expo Hype
We usually get a licence announcement or two at the rate of one every few weeks, but the last couple of months have seen the distros clam up with unusual reticence. That must mean that it's MCM Expo time, and the coming weekend will see genre fans congregate around Earl's Court to wait like supplicants for precious tidbits of information from Manga, MVM and Kaze. Manga Entertainment will also be recording a live podcast from the Expo. It's audio only, so standing at the back wearing a 'Hi Mum!' T-Shirt will be a waste of time. Also, if you want Puella Magi Madoka Magica on Blu-ray or DVD before the official release date, get there early, as Manga will only have 100 copies of each to sell.
Incidentally Manga issued a press release regarding a very special guest...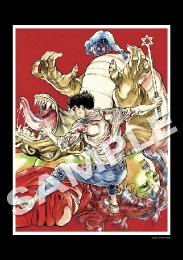 Quote:
We are thrilled to announce that Mr. Maeda Toshio (aka @TentacleMaster), the creator of Urotsukidoji: Legend of the Overfiend will be bringing his unique take on manga and anime to the London MCM Comic Con on 26-28 October at ExCel.

Visit the Tentacle Master shop at the expo to pick up your own signed and numbered limited edition digital lithographic print. Each AQ2 sized print is on sale exclusively at the London MCM Comic Con and limited to 200 prints.

There will be two unique designs to collect. This is a world exclusive. Maeda-san will also be selling a limited number of art books and T-shirts. This is a once in a lifetime chance to meet one the undisputed king of erotic manga illustration and the inventor of "tentacle sex"!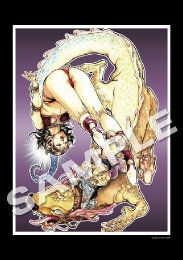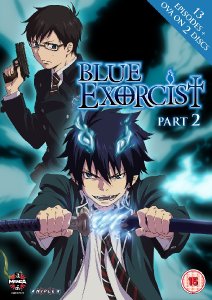 The first review for you this week is the second part of Blue Exorcist. It's a shonen action show with exceptional production values from studio Aniplex. The first part introduced Rin Okamura, who belatedly discovered that he was the son of Satan, and a prime target for daddy dearest in his eternal struggle to take over the world. The first time Satan tries it results in tragedy for Rin, so he decided to use his demon side to lay a smackdown on Satan by training to be an exorcist. In the second half, the struggle comes to a head when Satan puts his plans into motion. The thing about shonen action manga is that they run for volumes and volumes, but Blue Exorcist is just 25 episodes long. The twelve episodes in part 2 even include an episode devoted to a birthday party. Find out if they manage to make the story fit into the run time by clicking on my review for
Blue Exorcist: Part 2
.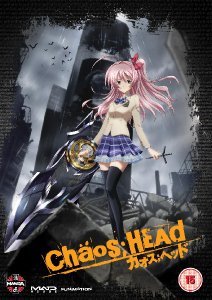 Next it was time to review
Chaos;Head: The Complete Series
. Chaos;Head is a mind bending bit of cyberpunk from the people behind Stein's;Gate and Robotics;Notes. It features a protagonist suffering from delusions caught up in a world being twisted and warped by mysterious forces, an anime and videogame fan who somehow attracts a collection of holographic sword-wielding high school girls, some or all of whom may be involved in a series of horrific deaths in his town, while all the time in the background a mysterious figure in a wheelchair named Shogun manipulates events... and there's an evil industrial corporation as well. If that isn't enough of an explanation, you can click on my review and see why I was wishing so desperately that this was Stein's;Gate instead.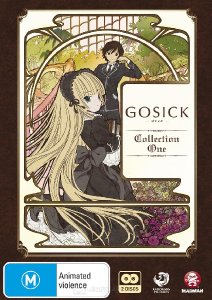 Thankfully, my final review of the week restored my faith in anime. I pushed the import button and got my mitts on
Gosick: Collection One
. A mystery show set in the intervening years between the wars, it sees Japanese exchange student Kazuya Kujo in a fictional European country encountering a golden-haired, deductive genius of a girl named Victorique. Together they investigate all manner of strangeness in and around their school, but all of that is nothing compared to the mystery that is Victorique herself. Don't bother clicking on my review. Just buy the show.
Blue Exorcist: Part 2, and Chaos;Head: Complete Series are both released by Manga Entertainment today. Gosick: Collection One was released by Australia's Madman Entertainment earlier this year, and it's the only place in the world where you can get an English friendly release of the show at this time.