William Friedkin thriller Killer Joe arrives on Blu-ray and DVD this November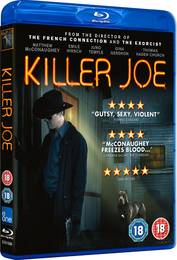 What do you get if you combine Oscar winning director William Friedkin with Pulitzer Prize winning playwright Tracy Letts? The answer is a thriller called
Killer Joe
, being released by
eOne
on 5th November.
Described as a violent and darkly comic neo-noir thriller, this stars Matthew McConaughey, Emile Hirsh, Juno Temple, Thomas Haden Church and Gina Gershon.
Alas no extras listed, but it does come with a 5.1 Dolby Digital soundtrack on the DVD, which will carry a recommended retail price of £14.99, and a 5.1 DTS-HD Master track on the Blu-ray, which should set you back £16.99.
Synopsis and trailer follow...
When small-time drug dealer Chris Smith finds himself seriously in debt to his supplier, he hatches a plan to have his estranged mother killed in order to claim the $50,000 life insurance due to be paid to his younger sister, Dottie.
To do the job, he hires Killer Joe Cooper, a creepy, corrupt and crazy Dallas cop who Chris is informed moonlights as a professional hit man. Unable to pay Joe's fee upfront, Chris agrees to provide a "retainer" in the form of Dottie, with whom Joe has immediately become besotted.
However, following the murder of his mother, Chris' plan begins to unravel in a series of unexpected twists involving the interference of his father's new wife, Sharla, and the development of an unlikely bond between Joe and Dottie.