Masters of Cinema title Gate of Hell comes to DVD and Blu-ray this December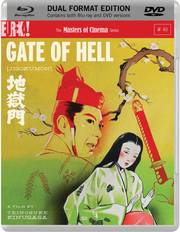 Big film fans that we are, it's always nice to see another release from
Eureka Entertainment
in their
Masters of Cinema
series. Next up from the distributor is the Japanese title
Gate of Hell
, aka
Jigokumon
, out on both DVD and Blu-ray this 3rd December.
Taken from a carefully restored high-definition master and presented in the film's original aspect ratio, in 1080p on the Blu-ray, it includes newly translated optional English subtitles and an illustrated booklet featuring the words of Kinugasa, plus rare archival imagery.
One of the key works of the early 1950s wave of Japanese films to first reach foreign markets, director Teinosuke Kinugasa's sumptuous period drama astonished audiences with its dramatic force and spectacular colour cinematography. It stars Kazuo Hasegawa, Machiko Kyō and Isao Yamagata.
The recommended retail price for the DVD will be £17.36, whilst the dual format version that includes this and the Blu-ray will be £20.42.
Synopsis follows...
During feudal unrest in the 12th century, samurai warrior Morito manages to thwart a palace rebellion and save the life of the empress, using loyal subject Lady Kesa as a decoy.
When Moritō is offered anything he should desire as reward, he requests Kesa's hand in marriage. Informed that she is already married to a fellow samurai, he refuses to withdraw his request, setting in motion a tragic chain of events.