Chris O'Dowd comedy Moone Boy comes to DVD in October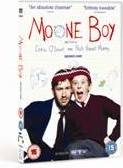 BBC Worldwide
have announced the release of semi-autobiographical TV comedy series
Moone Boy
for 15th October on DVD. Written by and starring Chris O'Dowd, this is about life growing up in Ireland in 1989.
Set in and partly filmed in Boyle, County Roscommon, the town where Chris grew up, it also features animated elements designed and supplied by Kilkenny-based Cartoon Saloon. Following its run on Sky 1 HD Moone Boy will be available on DVD from 15th October.
With a recommended retail price of £20.42, the runtime is around 180 minutes, and extras include behind-the-scenes footage. The series is currently running on Sky 1 HD, if you want to check it out prior to purchase.
Synopsis and trailer follow...
Set in a small town, the series follows the antics of the youngest member of the Moone family, 11-year-old Martin Moone. Martin has a unique perspective on life aided by an imaginary friend, Sean Murphy.
Martin's imagination comes into play both in his childish drawings, which come alive through animation, and in the ridiculous schemes he comes up with, against Sean's better judgement.
With Sean's help, Martin negotiates life as the youngest in a chaotic, scatter-brained family helmed by Debra and Liam. Johnny Vegas, Steve Coogan, Simon Delaney and Norma Sheahan also appear in the show.