Comedy series Hunderby comes to DVD this November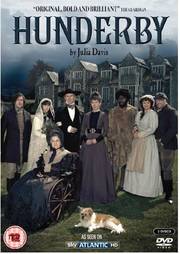 Always nice to go into the weekend with a bit of a laugh, so here is the news that Julia Davis' latest project
Hunderby
is turning up on DVD this 19th November, courtesy of
BBC Worldwide
.
Written by and featuring the actress herself, and currently showing on
Sky Atlantic
, this also stars Rufus Jones, Kevin Eldon, Alex MacQueen, Rosalind Knight, Daniel Lawrence Taylor, Alexander Armstrong, Ben Bishop, Rebekah Staton, Jane Stanness, Rosie Cavaliero and Alexandra Roach.
With a recommended retail price of £20.42, and a runtime of 154 minutes, extras include interviews with the cast.
Synopsis and trailer follow...
Set in the 1800s, it features Helene, a shipwreck survivor washed ashore near a small English village. There, she is swept off her feet by widowed pastor Edmund, and the two soon marry, the puritanical Edmund believing his bride to be untouched by another man. But she has a history, a dark past that she cannot escape.
As Helene moves into Edmund's home, she falls under the watchful eye of housekeeper Dorothy who is more than a little involved in her master's life, and quite obsessed with his dead first wife, Arabelle - to whom Helene simply does not compare. While Helene battles to keep her past a secret, she must navigate Dorothy's devious scheming, her husband's harsh critique and a potential new love interest.
In a gothic setting populated by the requisite cast of fiends, physicians, hunchbacks, wastrels, maids, crones, and an adorable puppy called Susan, Hunderby oozes with the dark and absurd humour that has become Julia Davis's trademark.