Introducing the new EcoTable power centre from Solar Technology
A revolution in modern outdoor furniture

Solar Technology International
 has unveiled its new 
EcoTable
 series of outdoor furniture at the 
GLEE 2012
 garden show. The new EcoTable, which is not only a great looking outdoor table and seating solution, is an entire power centre naturally powered by daylight to provide free power to electronic devices. 
The EcoTable is ideal for eco friendly houses or simply for those that don't have access to outdoor power but want to enjoy their electronic gadgets, for work or pleasure, in their gardens. The EcoTable boasts three different power sources ready to deliver no fuss instant power to a plethora of gadgets such as; Tablet PCs, Mobile Phones and much more.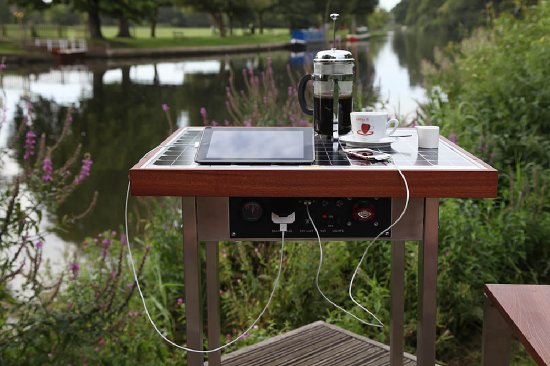 Its unique design is sympathetic to both modern and traditional surroundings ensuring it can blend naturally with any environmental decor, whilst the all weather design is extremely practical. A solar panel feature ingeniously takes centre stage as the table top whilst a tidy cable and power management centre is neatly tucked away underneath. 
The EcoTable is available in two sizes (EcoTab60, EcoTab120) and has three complimenting bench designs to choose from - including a smart corner design.
 
How it works

No cables necessary, the EcoTable collects sunlight via its state-of-the-art solar panel*. It then converts this energy into power to be stored by an ultra safe power bank that is neatly tucked away as part of the clever design. Power is delivered to devices by a sophisticated management system which ensures that when a device is plugged in the correct voltage is delivered. The Eco Table includes; USB, traditional wall socket and a 12Volt output (car charger). 
The EcoTable is designed to provide you power time after time...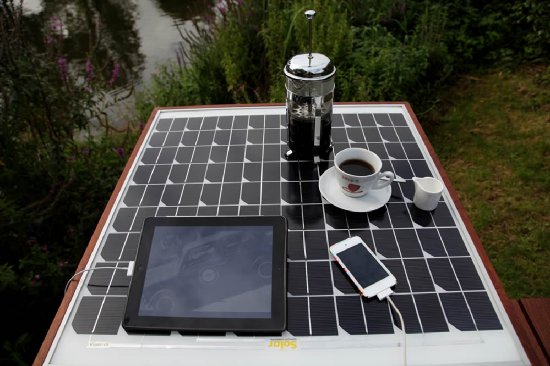 Example

The EcoTab120 delivers incredible performance providing the following power from a single charge of its battery bank: It can fully charge up to 7 laptops, 30 Smart phones or 15 Tablets per day and what's great is that it can power all three devices simultaneously! (Just in case have a few friends around) Plus EcoTab120 needs as little as 6 hours of sunshine to power itself fully ready to deliver more free power. 
Designed to last the EcoTable is made from powder coated steel (or super durable stainless steel if preferred) and the wood used in the design is 100% FSC certified Iroko Wood. The EcoTable has been designed and is manufactured in the UK. It is fully backed by a 20 year output warranty whilst the EcoTable's materials boast a 5 year warranty as standard. 
EcoTable retail prices start from £1299. 
The EcoTable is also the perfect outdoor furniture solution for any establishment serving the technology loving public that prides itself on luxurious or indeed environmentally-friendly décor, for example; Health Spas, Café's, Hotels, Golf Courses. 
To see an array of products that harness the sun visit Solar Technology online.