Edifier Sound To Go PLUS
Edifier Sound To Go PLUS™ Steps up its portability as an all-in-one micro speaker with a re-chargeable Lithium Battery and enhanced sound
 The Sound To Go PLUS™ takes portability to a new level as an all-in-one micro speaker with a re-chargeable Lithium Battery and remarkable sound.  Encased in an elegant brushed aluminium chassis, Sound To Go PLUS™ features a 2 channel stereo with 2 full range 1.25" drivers on each channel (magnetically shielded). It also features a built-in 'Class D' amplifier and a 3" x 1.25" oval passive radiator. An auxiliary input enables the use of multiple host devices such as 'smartphones' and iPads (any MP3 enabled device).   Sound To Go PLUS™ is a self-contained portable mini speaker system that delivers exceptional audio performance above and beyond any built in laptop or tablet speaker.  Sound To Go PLUS™ is a great solution for home, business and travel use.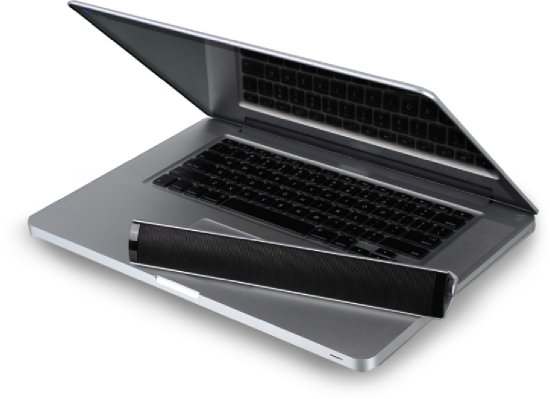 FEATURES 
Re-chargeable Lithium Battery Power
Enhanced Sound Quality
USB audio streaming capabilities
Auxiliary input connects to audio enabled devices
Magnetically shielded, 3" x 1¼ " oval passive radiator with built in amplifier
Two, 1¼ " mid range drivers and two, 1¼" tweeters, all magnetically shielded
Soft protective carry pouch for transportation
USB cable included
SPECIFICATIONS 
Total power output:                           RMS 1W x 2
THD + N (testing level):                    0% Signal to noise ratio:≥75dBA
Frequency response:                         20Hz - 20KHz Distortion: ≤1%
Input sensitivity:                               USB: 800mV ± 50mV (THD+N=1%) | AUX:    500mV ± 50mV (THD+N=1%)
Audio Input Type:                             USB, Auxiliary
Passive Radiator/bass unit:                3" x 1¼"oval, magnetically shielded, 5Ω
Midrange / high unit:                         Two circular 1¼ ",  magnetically shielded
Tweeter unit:                                    Two circular 1¼ ", magnetically shielded
Dimension (Unboxed):                       10.28" x 3.6" x 4.4"  26.1cmx3.6cmx4.4cm  .82lbs | .37kg
Dimension (Boxed):                          2.36" x 2.36" x 11.46" 6cm x 6cm x 29.10cm .99lbs | 45kg
Price and Availability
The Sound To Go Plus is available at MSRP £49.99 inc and is available from Amazon, Currys and Play.com
About Edifier
Edifier International specializes in the design and manufacturing of high-end consumer audio electronics for both the lifestyle and multimedia markets, providing a wide selection to suit each individuals taste. Edifier International is renowned for its development and use of acoustic technology, superior manufacturing standards and uncompromised quality in design and production of audio electronics.
Edifier is committed to excellence in all audio markets in which it operates, which include PC audio, multimedia audio, docking audio, IT lifestyle audio and home lifestyle audio. Edifier is committed to excel and extend the audio experience into further evolving both the global brand and product recognition, with a passion for sound.
Edifier continues to expand it operations and presence, moving towards the goal of becoming a world class, internationally recognized company specializing in quality audio solutions for the ever evolving consumer electronics industry. 
http://www.edifier-international.com/