The Passion of Joan of Arc gets the Masters of Cinema treatment in November on DVD and Blu-ray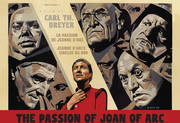 We haven't had a classic
Masters of Cinema
release for a while have we? Well if you discount yesterday, they seem to be like buses!
Eureka Entertainment
have announced
The Passion of Joan of Arc
for 19th November.
Created from an exclusively restored high-definition master presented in the film's original aspect ratio, the Blu-ray is not only in 1080p but also presented in both 20fps and 24fps playback speeds.
The music piano score is performed by Japanese silent film composer Mie Yanashita for the 20fps option, and a radical accompaniment by esteemed American avant-garde musician Loren Connors for the faster frame rate, both with newly translated optional English subtitles for Dreyer's original Danish intertitles.
This contains the complete
Lo Duca
version of the film, featuring an alternate edit and soundtrack that circulated in France and around the world for decades before the rediscovery of Dreyer's director's cut. It will also come with an illustrated booklet featuring the words of Dreyer, rare archival imagery, and more.
The recommended retail price will be £18.37 for the DVD and £20.42 for the Blu-ray, with a dual format SteelBook edition coming in at £30.63.
Synopsis follows...
One of the most emotional film experiences of any era, Carl Theodor Dreyer's 1928 The Passion of Joan of Arc is a miracle of the cinema, an enigmatic and profoundly moving work that merges the worlds of the viewer and of saintly Joan herself into one shared experience of hushed delirium.
Dreyer's film charts the final days of Joan of Arc as she undergoes the degradation that accompanies her trial for charges of heresy – through her imprisonment and execution at the stake.
The portrayal of Joan by Renée Maria Falconetti is frequently heralded as the all-time finest performance in the history of film, and Dreyer's unusual and virtuosic method, in seeming to render the very soul of his actress, vaulted the director decisively into the ranks of the art form's supreme geniuses.