Lister and co return in Red Dwarf X on Blu-ray and DVD from November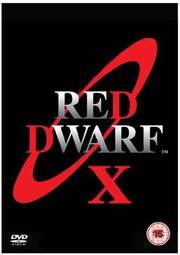 Just when you think the world can not be a brighter happier place, a brand new series of
Red Dwarf
comes along!
BBC Worldwide
have announced the soon-to-be-screened-on-
Dave
Red Dwarf: Series X
for release this coming 19th November.
Also available for download from 5th October, the legendary sci-fi sitcom sees the return of Craig Charles, Chris Barrie, Danny John-Jules and Robert Llewellyn.
Written and directed by Doug Naylor, the six brand new episodes will be accompanied by the
We're Smegged
feature-length documentary, deleted scenes with director's commentary, plus the compulsory
Smeg Ups
collection of out-takes.
The runtime will be 180 minutes, whilst the recommended retail prices will be an oddly misshaped £20.42 for the DVD and £25.52 for the Blu-ray.
Synopsis and trailer follow...
Things begin with the Dwarfers' mining ship still creaking though the wastelands of uncharted deep space, as the posse soon stumble upon the mysteriously abandoned SS Trojan. When they inspect the ship, Rimmer receives an SOS distress call from an old foe and is suddenly faced with the dilemma of his life.
Throughout the series Lister grapples with the problem of being his own father, gets involved in a love triangle with snack dispensers 23 and 34, while Kryten and Cat become quantum entangled forcing them to do everything in unison.
The posse also find themselves marooned in 23 AD where they rescue a famous historical figure with a beard.
Show six, The Beginning, finds the boys surrounded by a Simulant War Cruiser and its fleet of attack ships. Armed with only two forks and a pencil sharpener, the Dwarfers begin to wonder whether this is the beginning of the end. Only one man can save them. Unfortunately that man is Arnold J Rimmer.