Experience The Ultimate Combination of Video, Sound and Video Editing Software at Photokina 2012
Video needs Sound: Olympus and MAGIX provide professional audio-visual solutions
All camera enthusiasts, from experts to beginners can now record professional Full HD videos in impressive hi-fi sound. Simply take a compact system camera with Full HD video capability, such as an Olympus OM-D E-M5, a Linear PCM Recorder e.g. the Olympus LS-100 and a copy of MAGIX video editing software to mix video and sound professionally in the post-production stage. Olympus and MAGIX will be showcasing the incredible potential of this affordable audio-visual solution at photokina 2012 in Cologne from September 18 - 23. In the Olympus Audio Lounge located in Hall 2.2, at Stand A011-B010 experts will be presenting the "Can you hear me" music video and accompanying making of from Berlin's music star Pat RoXx.
Professional videos with hi-fi sound
There are lots of cameras on the market today that can record in Full HD. In recent years it's not only the resolution quality that has improved: cameras such as the Olympus OM-D provides the user with image stabilization and editing tools as well as an option to adjust the focus depth. More importantly, interchangeable lenses and high ISO settings mean a camera's picture quality is often superior to regular camcorders. The only thing missing is perfect sound. The OM-D offers remarkable sound quality, but people looking to record in high-fidelity sound are well advised to use an external Linear PCM Recorder, available from the Olympus LS series.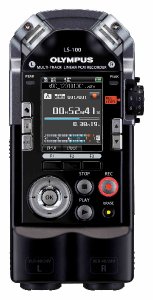 A revolution in movie sound
The LS-100 is a first class choice when it comes to recording sound for videos because it can accurately reproduce sound and capture the atmosphere no matter what is being filmed. Thanks to its wide frequency range of 20 - 20,000 Hz anything from drums to cymbals can be recorded in realistic, crystal clear quality. Capable of handling a sound pressure level of up to 140 dB, the LS-100 will record exactly what the user wants, from atmospheric backgrounds to live concerts. The LS-100 features dual XLR/Phone combo jacks making it possible to connect this Olympus recording device to professional external microphones or other music equipment. The device can also be easily attached to the camera's flash shoe using an external adapter. With this kind of setup it's possible to record top quality audio using the LS-100 while simultaneously capturing Full HD video footage. MAGIX Movie Edit Pro 2013 Plus is the product of choice for even the most demanding video editing tasks in the post-production phase. It provides an intuitive way of editing video footage as well as the option to synchronize multitrack recordings. Moreover, the various mastering functions and powerful special effects complete a powerful "all-in-one" package.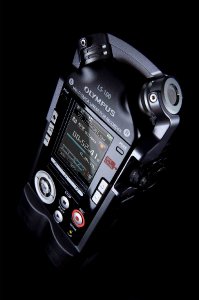 Video meets sound at photokina 2012
From September 18 - 23, photokina visitors can come past the Olympus stand and discover how simple it is to create professionally dubbed videos at a reasonable price. In the Audio Lounge Olympus and MAGIX will be presenting a music video from Berlin's Pat RoXx, which was recorded using the OM-D and LS-100, then edited with MAGIX Movie Edit Pro 2013 Plus. People interested in understanding how raw footage is transformed into a finished video can watch the making of for a detailed insight into the actual production process. Everyone is welcome to test hardware and software for themselves: borrow an audio recorder for the trade fair and get a 30-day test version of the program. The Olympus Stand A011-B010 is located in Hall 2.2