Parent comedy Friends With Kids comes to Blu-ray and DVD this November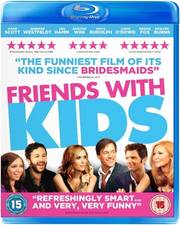 It's ensemble comedy time courtesy of
Lionsgate UK
, who are releasing Jennifer Westfeldt written and directed feature
Friends With Kids
on 12th November.
Available on DVD, Blu-ray and for download, this stars Jon Hamm of
Mad Men
fame, Kristen Wiig, Maya Rudolph and Chris O'Dowd from
Bridesmaids
, Megan Fox, Adam Scott and Edward Burns.
With a 15 certificate and running time of around 105 minutes, extras will include a commentary track,
Making Friends with Kids
featurette,
bloopers,
MJ Rocks at Video Games
featurette, deleted scenes and
Scene 42: Anatomy of a Gag
featurette.
The street prices should be around £14 for the DVD and £17 for the Blu-ray.
Synopsis and trailer follow...
Jason and Julie, the last two singles in a close group of 30-somethings, observe the effect that kids have had on their friends' relationships and wonder if there's a better way. Eventually they decide to have a kid together, but date other people.

There are big laughs and unexpected emotional truths as this unconventional 'experiment' leads everyone in the group to question the nature of friendship, family and, finally, true love.