Inspired 3-in-1 Fusion of style & storage
Crosskase Fusion laptop bag offers 3-in-1 compact design with plenty of pockets and protection from the elements
Designed to protect and adapt for everyday life and commuting, the Crosskase Fusion bag is deceptively spacious, and boasts an inspired urban design which features three bag styles within one compact package.
With an abundance of storage space and several dedicated pockets, the Fusion is ideal for your ultrabook/laptop, phone, documents and more. Demonstrating the classic styling of Crosskase – clean, contemporary and intelligent – the bag uses Ballistic Nylon construction, inner padding and an exterior flap to ensure items are well protected from the elements and potential theft.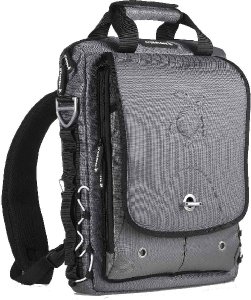 Key Features of the Fusion
* 3-in-1 design: messenger, tote or backpack
* Storage for 13-15.6" notebooks with padded internal skin
* Dedicated iPad pocket and storage for tablets and phones
* Front organiser section
* Secure travel document pouch
* Elasticated side bottle storage each side
* 1680D Ballistic Nylon construction for strength and water resistance
* Modern design in black or silver
* £79.99 inc VAT
Adaptable – 3-in-1 design to suit every style and need
The versatile Fusion bag offers three effortless ways to carry your belongings:
1. Backpack: using the tuck-away padded shoulder straps
2. Messenger: using the adjustable single-style strap
3. Tote: using the sturdy top handle (with magnetic grip)
By bringing together three classic styles of bag within one seamless package, the Fusion presents a highly adaptable solution which suits any mood, day or environment without needing to change bags - from cycling to work, catching a flight or relaxing after-hours.
Available in black or silver, the Fusion offers a modern yet discreet design which complements the urban lifestyle.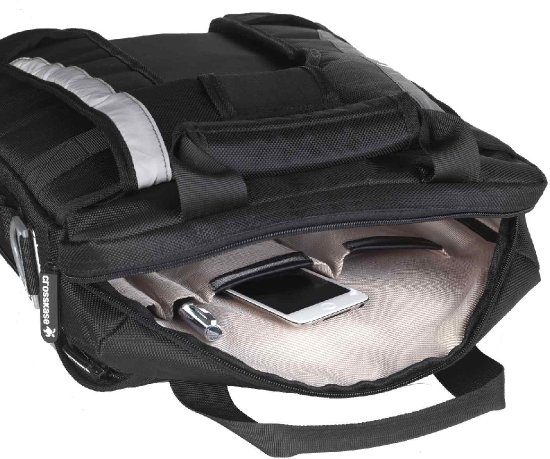 Organised – storage for laptop, phone and documents
The intelligent layout of the Fusion bag combined with a generous assortment of storage pockets ensures there is plenty of space to keep your everyday belongings by your side without compromising on size.
The Fusion features storage for ultra books and traditional 13-15.6" laptops, plus pockets for tablets and phones and other documents.
The front organiser pocket offers quick-store iPad protection, together with plenty of room to keep smaller items safe and within easy reach.
A secure travel document pouch will help to prevent last-minute panic searching for tickets and passports, whilst the elasticated side bottle storage on both sides will make it a breeze to stay hydrated on the commute to work without losing time.
Secure – protect your items from the elements and theft
The Fusion is built to keep your gear safe during everyday life and travel, and is uncompromising when it comes to security and protection.
Made from water-repellent Ballistic Nylon and featuring an exterior access flap, the Fusion is strong, lightweight and helps keep your belongings fully protected from the elements and potential theft.
What's more, an internal padded compartment provides even more protection for your laptop, by reducing impact from knocks and bumps.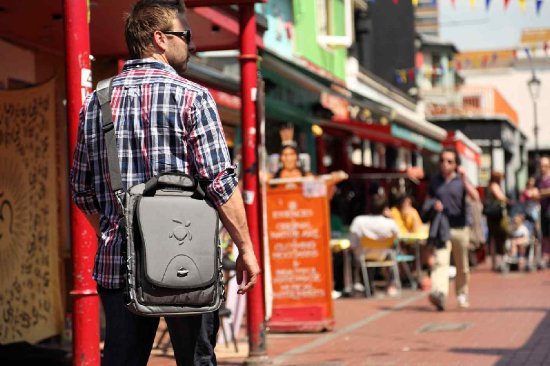 Pricing and Availability
RRP £79.99 inc VAT.
Available now from www.crosskase.com , Apple and Amazon.
Technical Specification
Size: H43cm x W31cm x D15cm (fits up to 15.6 inch laptop)
Capacity: 10 Litres
Weight: 1.66kg (3.6lbs).
Material: High grade, professional 1680D Ballistic Nylon
About Crosskase
Launched in 2012, British company and brand Crosskase laid out what the average person carries, and intelligently designed these needs into a backpack which protects and secures personal electronic devices such as laptops, tablets and phones.
Using premium, high-grade materials, the range suits both work and leisure demands, with a design which is comfortable, protective and stylish. With the solar range, users can also charge their gadgets by using the sun as a power point.
Sharing many qualities with the turtle (hence the logo), Crosskase bags are water-resistant, tough, long lasting, streamlined, protective, adaptable and breathable.
Crosskase aims to become the market leader in bag design and technology by keeping ahead of fast-moving technology and developing quality products to suit customers no matter what their lifestyle.