Reallusion Debuts CrazyTalk7 to Apple's Mac Store
Simply use your voice to turn images into talking videos
Reallusion introduces CrazyTalk7 as the new and innovative digital media application for the Mac.
No matter if you are an iMovie-maker or a creative user, from any level, you can now create talking character videos from any digital photograph. Bring any face to life with CrazyTalk7's simple face-fitting guide, and then use your own voice to puppet your actor's performance.
Auto-animation in CrazyTalk7 is an innovative, time-saving feature that helps you create life-like animations in a matter of minutes. The ability to animate characters with any voice or text-to-speech engine, allows any user to quickly create animated shorts, video hosts, cartoon characters and more.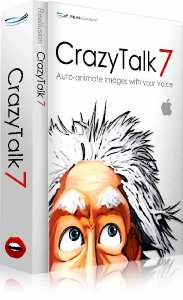 CrazyTalk7 is unlimited in what you can bring to life. Choose a photo or illustration, fit the facial features, add audio to generate animations, and see your characters perform in real-time. Save movies for editing in iMovie, or directly upload them to YouTube. CrazyTalk7 positions itself as an essential, quick animation tool in any artist's toolbox.
What Makes the Difference? – Auto Motion Technology
CrazyTalk7 does more than just lip-syncing, now you can use the energy of your voice to control and generate natural character animations. How you speak directly affects your avatar's mood and tempo such as; whispering to replicate a quiet mood with little movement, shouting to get exaggerated results with camera close-ups and facial flaring, or singing to a rhythmic beat.
Choose from various speaker performance styles to set a unique personality to your character's base movement. Then choose a Talk mode that makes your character speak the audio with lip-syncs, and add emotions with Auto Motion templates that are driven by the same audio. Or choose a Listen mode that turns your character into an attentive listener, or headphone-jamming music lover that responds to the music with eye, head and facial expressions. With CrazyTalk7, voice-driven animations allow anyone to create quality animations with no prior experience. Give CrazyTalk7 your best Rock 'n' Roll performance, or morph your voice into a small, evil rodent to see how normal and characterized voices can create unlimited possibilities in CrazyTalk7.
Easy Enough for Beginners, Powerful Enough for Studio User
Over the past 10 years, CrazyTalk has been carefully refined by cleverly automating animation principles that have been observed in many stage performances, cartoon animations and motion comics. This has created a huge following of users ranging from school children, high-school educators, amateur at-home animators, online video makers, comic book creators, charities/initiatives, Photoshop users, video effect producers and professional animators.
CrazyTalk is equipped to boost production for media pros and working artists. The spectrum of users spans from Youtube video uploaders, to professional illustrators, and broadcast TV studios like American ABC's Jimmy Kimmel Live and Comedy Central's The Daily Show with Jon Stewart, to Willow Road Animation's work on the Justice For Hire motion comics.
CrazyTalk7 Features
CrazyTalk7 for Mac is inspired animation creativity, bringing advanced animation techniques to the classroom, home studio and pro toolbox with a unique approach to movie making. CrazyTalk7 detailed features:
1. Make Any Photo Talk!
● Import any JPEG, BMP, TGA, PNG,
● Use drawings, sketches, graphic art, comics, animal or human photos, etc.
● Simple wireframe fitting process that includes face, hair and head accessories
● Transform flat 2D images into 3D heads with a vivid three dimensional look
● Realistic eye movement with VividEye technology
● Intelligent masking with automatic background removal
2. Audio lip-sync and sound morph effects
● Import WAV, mp3, or record your own audio
● Type in text and turn it into audio with any TTS (text-to-speech) engine
● Automatically analyze your audio and generate lip shapes for animation
● Add or edit lip shapes in the timeline, and adjust their strength
● Morph your voice to an alien, cartoon mouse, monster, robot or add special effects
3. Auto Animation
● Idle animation mode – add default idle motions to immediately turn an imported photo into a
natural moving animation. Watch as actors appear calm, overactive or sleepy while idle.
● Scenario-based animations - match a specific animation performance style
○ Talk - news reporter, intense speaker or nonchalant communicator
○ Sing - rap, opera, soul. Move to a rhythm or sing to the lyrics.
○ Fun Human Sounds – generate an evil laugh, hiccup, or a snore
○ React - sway along to the music, listen to an interesting topic, or appear bored of a
conversation.
● Functional – apply basic audio-generated movements, and later customize to any kind of scenario
4. Custom Facial Puppet animation
● Personality level - Choose a profile and select from various mood performances
● Expression level – Add that magic touch to any character's expression
● Muscle level - For those that demand total control in their animation process
5. Refine with Timeline editing and the Expression library
● Overlay specific facial expressions from the library, or create your own through puppeteering
● Use cut, copy, loop, change speed functions on your motion
● Save your edits in the custom motion clip library for future use
6. Hundreds of Professional Animation Templates
● Create animations by easily drag-and-dropping templates
● Employ behavior presets from the Auto Motion library to tell your actor how to perform
● Use studio-made motion clips for accurate timeline performances
● Learn animation styles from the sample scripts and get inspired
● Actor Library - Experience a library of actors and learn how to make your creations work best in CrazyTalk
● Sample Projects include singing, talking, mumbling, rapping, and shouting projects.
7. Export
● QuickTime Video in HD size, 1080p 1920x1080, 720p 1280x720 and more
● Custom video size and ratio
● Image Sequence (JPEG, BMP)
● Image Sequence with Alpha channel (TGA, PNG 32bit)
8. On-line User Manual, Video Tutorials and Forum
● Easily learn CrazyTalk7 with full media support training
Pricing and Availability
CrazyTalk7 Mac is available in the Apple App Store for GBP£29.90.
Visit Reallusion's website for more info, training and demo video:
http://www.reallusion.com/crazytalk/crazytalk7/default.aspx