CGI survival horror Resident Evil: Damnation comes to DVD and Blu-ray in September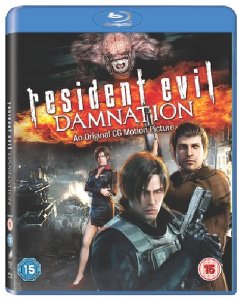 Whilst some may have been following the live action series, here we have a sequel to the CGI series which has been going it's own route, with
Sony Pictures Home Entertainment
and
Capcom
offering
Resident Evil: Damnation
on DVD and Blu-ray this 24th September.
Directed by Makoto Kamiya, who also directed the previous CGI film, written by Shotaro Suga and produced by Hiroyuki Kobayashi. It features the vocal talents of Matthew Mercer, Courtenay Taylor and Salli Saffioti.
Both formats will include the
Las Plagas: Organisms of War
featurette, voice bloopers and
The DNA of Damnation
making-of featurette. The Blu-ray also includes Ultraviolet features, and an exclusive conceptual art gallery.
Rated 15, the running time will be 100 minutes (or 96 for DVD owners due to PAL speed up). The recommended retail price will be £12.99 for the standard def, and £19.99 for the high definition version.
Synopsis is as follows...
United States special agent Leon S. Kennedy sneaks into a small Eastern Europe country to verify rumors that Bio Organic Weapons (B.O.W.s) are being used in war. Right after his infiltration, the US government orders him to leave immediately. Determined to uncover the truth, Leon ignores the order and enters the battlefield to end the chain of tragedies caused by the B.O.W.s.