What to Expect When You're Expecting is born on Blu-ray and DVD this October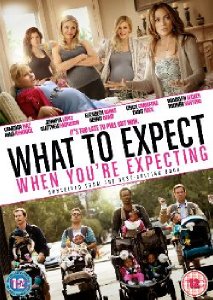 Ooh goodness, fans of a best selling book can soon enjoy it's visual representation in the comfort of their own home, courtesy of
Lions Gate Home Entertainment
. Out on 22nd October is
What to Expect When You're Expecting
, starring Cameron Diaz, Jennifer Lopez, Elizabeth Banks, Chace Crawford, Brooklyn Decker, Anna Kendrick, Matthew Morrison, Dennis Quaid and Chris Rock.
Extras will include a What to Expect and the Pregnancy Bible featurette, Dudes Unscrewed featurette, and deleted scenes. The RRP for the standard definition version will be £19.99, whilst the hi-def will come in at a mere £24.99. Expect street prices a lot lower.
Synopsis and trailer are as follows...
Over the moon about starting a family, TV fitness guru Jules and dance show star Evan find that their high-octane celebrity lives don't stand a chance against the surprise demands of pregnancy.
Baby-crazy author and advocate Wendy gets a taste of her own militant-mum advice when pregnancy hormones ravage her body. Photographer Holly is prepared to travel the globe to adopt a child, but her husband isn't so keen and tries to reassure himself by attending a male support group, The Dudes Group, where new fathers get to tell it like it really is.