Disney classic 101 Dalmations bound onto Blu-ray and DVD this September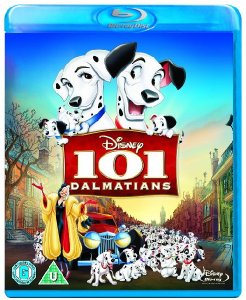 It does seem to be a good year for fans of
Walt Disney
, the other day we had
Cinderalla
being announced, and now we have
101 Dalmations
arriving on Blu-ray and DVD this 3rd September.
With a street price of about £15, the running time is 80 minutes, certificate U, and extras will include abandoned song sequences such as
March of The One Hundred And One
,
Cheerio Good-Bye Toodle-oo Hip Hip!
and
Don't Buy A Parrot From A Sailor
.
This is the studio's 17th animation, and has been lovingly re-crafted into a high definition transfer. The highest grossing film of 1961 will also arrive as a two disk set with the sequel in both HD and SD formats.
Synopsis follows, you know, just in case you've been living in a cave the last sixty years...
101 Dalmatians is a wild adventure starring the world's most adorable dogs and the monochrome villain, Cruella de Vil. This is the tail-wagging story of Pongo and Perdita, a pair of Dalmatians who meet in a London park, arrange for their owners to marry and start a family themselves.
They soon become the proud parents of fifteen pups, but disaster strikes when the litter is abducted by Cruella's henchmen for her monstrous plan to make a fur coat out of their spotty skins. Can Pongo and Perdita save their pups from the clutches of evil Cruella and a diabolical fashion statement?