Coming home drama Return arrives on DVD this August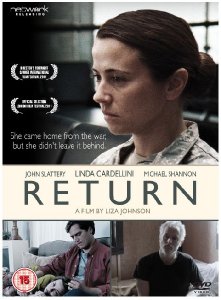 Fan of coming home dramas? Well
Network Releasing
have a release out on 6th August aimed at you.
Return
is written and directed by Liza Johnson, and stars Linda Cardellini, Michael Shannon and John Slattery.
Financed by the
Sundance Laboratory
, the film apparently premiered to high acclaim at the Cannes Film Festival 2011. With a recommended retail price of £14.99, the running time will be 94 minutes, and extras will include an interview with the director and lead actress, and a trailer.
The synopsis is as follows:
Leaving the war behind, Kelli (Cardellini) can't wait to re-join her old life in the rust Belt town she's always known. She is ready to experience the old feelings of everyday life again, to enjoy the most mundane smells and touches that everyone safely at home knows well.
But slowly, the realisation dawns on her that what was once so familiar is now alien and disconnected and trifle. Her friends, children and husband need more focused attention than she can give. Try though he might, her husband Mike (Shannon) does not understand what she has been through.
As dislocation ripples through her world, Kelli risks becoming an outsider; thrown back on her own resources, she must now try and find a new way forward.