Rubber faced comic Phil Cool comes to DVD this August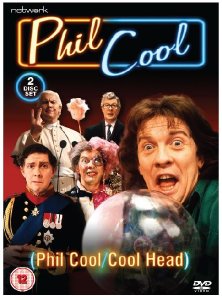 Our younger readers may not remember him, but just like with those bizarre orange sticky octopuses that walked down walls, we sure do. Yes rubber faced comedian Phil Cool is coming to DVD once more, in the form of his surreal series originally shown on Central Television in the late 80s.
Courtesy of
Network Video
, the double bill
Phil Cool / Cool Head
arrives as a 2 disk set on 20th August, with a recommended retail price of £19.99.
Obviously this is full frame, and the running time is about 300 minutes.
Synopsis follows...
Both Cool Head and Phil Cool showcase his unique talents to the full, with a mix of stand-up comedy, sketches andastonishing rubber-faced metamorphoses; from Rolf Harris to Mick Jagger, Keith Joseph to the Pope, the Prince of Wales to ET, no-one and nothing is off-limits for Phil Cool! On-screen participants include the real Rolf Harris, Dillie Keane (Fascinating Aida), Jon Glover (Spitting Image) and Sophie Thompson (EastEnders).
Incidentally, this release is to coincide with the comedian's latest tour, dates of which are below:
Saturday 18th August 2012
Ayr Town Hall Box Office: 01292 269793
Saturday 15th September 2012
Square Chapel Arts, Halifax Box Office: 01422 349422
www.

squarechapel

.co.uk
Thursday 20th September 2012
The Palace Theatre, Redditch Box Office: 01527 65203
www.redditchpalacetheatre.co.uk
Friday 21st September 2012
The Palace Theatre, Newark Box Office: 01636 655755
www.

palacenewark

.com
Friday 28th September 2012
The Quay Theatre, Sudbury Box Office: 01787 374 745
www.

quaytheatre

.org.uk
Saturday 13th October 2012
Astor Theatre, Deal Box Office: 01304 381134
www.theastor.org
Friday 26th October 2012
Mill Arts, Banbury Box Office: 01295 279002
www.themillartscentre.co.uk
Friday 16th November 2012
The Central Studio, Basingstoke Box Office: 01256 418318
www.centralstudio.co.uk
Friday 7th December 2012
The Gulbenkian Theatre, Canterbury Box Office: 01227 769 075
www.kent.ac.uk/

gulbenkian
Friday 8th February 2013
The Midlands Arts Centre, Birmingham Box Office: 0121 446 3232
www.mac

arts

.co.uk
Saturday 1 June 2013
Frome Memorial Theatre Box Office: 01373 462795
www.fromememorialtheatre.org.uk