Irvine Welsh's Ecstasy comes to DVD and Blu-ray in August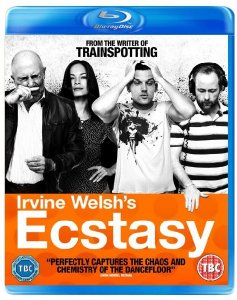 We aren't always sure about a film when the marketing blurb pushes certain aspects, like the soundtrack, above others, like the story. But this could be worth putting those concerns aside, as
Kaleidoscope Home Entertainment
announce the release of
Ecstasy
on DVD and Blu-ray for 20th August.
This gritty tale of love and seduction is based on the book by Irvine Welsh of
Trainspotting
fame, and stars Adam Sinclair, Kristin Kreuk from TV series
Smallville
, Billy Boyd aka Pippin from
The Lord of the Rings
, Natalie Brown, Carlo Rota, Ashley Pover and Olivia Andrup.
The run time is 99 minutes, certificate is 18, and extras include a director's commentary, deleted scenes, making-of featurette and character teasers. The soundtrack is courtesy of Tiesto, Coldplay, Orbital, Paul Oakenfold and Primal Scream, whilst the recommended retail price will be £17.99 for the DVD and £19.99 for the Blu-ray.
Synopsis follows...
Lloyd (Sinclair) is on top of the world - beautiful girls, great club sounds, and a never ending supply of the love drug, sustained by a smuggling sideline for the local drug boss.
But when he meets Heather (Kreuk) he is forced to question if the love he feels is real or just another chemical high. Cracks start to appear in his world as he realises he wants out. If he can just pull off one last job, he'll be free.