Kenneth Branagh stars in Wallander: Series 3 out this July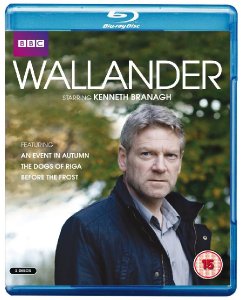 It doesn't seem that long ago that Si
reviewed Wallander: Original Films
, and already more is on the way in the form of the
BBC Worldwide
release of
Wallander: Series 3
, starring Kenneth Branagh in the title role.
Out on DVD this coming 23rd July, or a week earlier for those who want to buy the download, the recommended retail price will be a strange £25.52. Available the same day will be a box set containing all of the first three series, priced at £51.05. As always, expect the street prices to be much lower.
Synopsis follows...
Based on the novels by Henning Mankell, the drama follows Kurt Wallander, a sensitive but brilliant detective, a man who takes each murder case he works on personally and will stop at nothing in his search for the truth, even at the expense of his health and his family life.
Having relocated to the Swedish countryside, Wallander's fresh start is crushed when the remains of a young woman are found buried in his back garden in An Event in Autumn. Wallander finds the remains of a young woman buried at the back of his garden. The body is at least five years old. The remains of another young woman are washed up on the shore. She was last seen boarding a ferry - but did she jump or was she pushed?
In The Dogs of Riga, the corpses of two Latvian men are discovered on a life raft in Ystad harbour. Covered in Russian mafia tattoos, they've been tortured and brutally murdered. When Wallander travels to Riga in search of the killers, he becomes entangled in a web of corruption. Who can he trust?
Anna Westin, a childhood friend of Wallander's daughter Linda, goes missing shortly after visiting Wallander in Before the Frost. Elsewhere a religious fanatic, Jannek Langas, seems to be responsible for the murder of an elderly woman whose burnt body is found in the woods. When a connection between Westin and Langas is found, Wallander and Linda fear for Anna's safety.